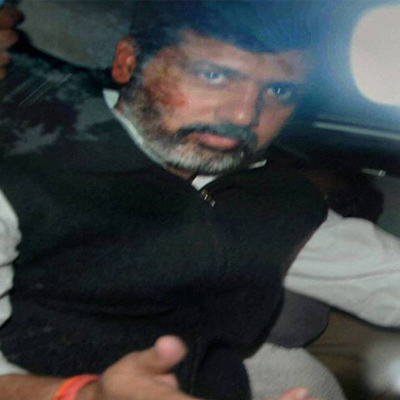 BSP MP Dhananjay Singh, facing trial for allegedly repeatedly raping a woman between July 2005 and March 2009, was today granted interim bail till May 20 by a Delhi court. Additional Sessions Judge Sarita Birbal granted bail to Singh on a personal bond of Rs 50,000 and a surety bond of like amount.
The Supreme Court had on April 9 granted temporary bail to Singh, who along with his wife Jagriti Singh, is accused of killing their maid, to file his nomination from Jaunpur Lok Sabha seat in Uttar Pradesh. The sessions court, in its order, said that the complainant, a railway employee, has not supported the case of the prosecution and she had deposed that Singh had "neither committed rape on her nor threatened her".
It also said that the other prosecution witnesses, who are yet to be examined, were either doctors or police officials and it was not the case of the prosecution that these witnesses may be influenced by the accused.
"In view of above, the accused is admitted to bail in the present case till the next date of hearing i.e. May 20 on furnishing personal bond in the sum of Rs 50,000 with one local surety of like amount...," it said.
The court also imposed conditions on Singh, including that he would not leave the country and would not make any attempt to contact any of the prosecution witnesses. During the hearing on the bail plea, the counsel appearing for Singh had told the court that his client had already been granted bail by the apex court for filing his nomination for the upcoming Lok Sabha polls.
His counsel had also said that even the alleged victim in the rape case has not supported the allegations levelled against Singh, a sitting MP from Jaunpur, in the case. According to sources, the 42-year-old woman's testimony during an in-camera proceeding was contrary to her earlier statements given before the police and a magistrate in which she had said she was repeatedly raped by Singh for nearly four years.