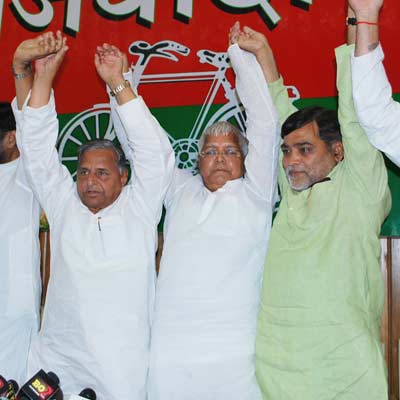 Ram Kripal Yadav, who resigned as Rashtriya Janata Dal (RJD) general secretary on Saturday, has claimed that party chief Lalu Prasad Yadav ignored his repeated pleas to contest the 2014 Lok Sabha elections from the Patliputra seat. Lalu, claimed Kripal, put family before seniority, thereby paving the for the latter to resign. Kripal is expected to join the Bharatiya Janata Party (BJP), according to sources.
"I told Lalu Prasad about my wish to contest from Patliputra almost a year back. So he knew," Kripal, who is a Rajya Sabha MP, told dna in an exclusive interaction. "It is true that I did not pester him continuously with this demand of mine. But a month ago, I got it conveyed through people close to him. I conveyed that if Lalu himself, or Rabri Devi wanted to contest from the seat, I would vacate it."
Sources close to Lalu maintained that Kripal never expressed his willingness to contest the Lok Sabha elections, and that the party would have nominated him for the Rajya Sabha in 2016.
Trouble erupted on Thursday when RJD announced its list of 25 candidates; Lalu gave Lalu gave Patliputra seat to his daughter Misa Bharti. On Friday, Misa camped in vain for five hours at Kripal's bungalow in New Delhi to win over her disgruntled uncle.
"I know Misa since childhood. She could not have done that. Staging this drama was a deed of her father," said Kripal.
RJD sources say Kripal had been cosying up to the BJP of late. Kripal maintained that he is keeping all options open and will soon decide about joining another party. Speaking on condition of anonymity, an RJD leader close to Kripal said he will most probably join the BJP. "His leaving the party will see some leaders and his close followers also following suit," he said.