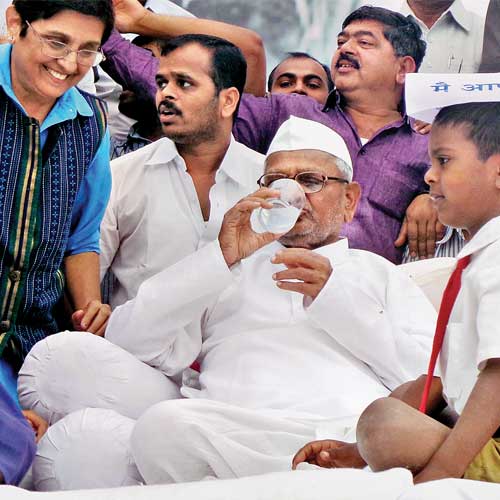 Social worker Anna Hazare called off his indefinite fast, that has entered the ninth day, on Wednesday after Lok Sabha passed the Lokpal Bill. Hazare expressed the need for bringing the act before the code of conduct for the general elections comes into force.
Villagers and a large number of visitors celebrated the passage of bill by bursting firecrackers, raising slogans and dancing to the tune of dhol-tasha, other traditional instruments and a DJ playing music.
Hazare, Kiran Bedi, former Army chief VK Singh, Vishwambhar Choudhari, Ralegan Siddhi sarpanch Jaishingh Mapari, Anna's trusted aide Datta Awari, former sarpanch Ganpatrao Auti, Suresh Pathare and Subhash Pathare were present on the dais.
Hazare broke the fast by accepting lemon juice from three small children from the village. Anna gave credit for his nine-day fast to Ralegan Siddhi villagers and the naturopathy specialist from New Delhi.
Hazare has now announced that he will undertake nationwide tours to identify and bring together men and women of character to set up a mechanism that can work as a watchdog for the effective implementation of Lokpal and other such laws.
Expressing the need for passing Right to Reject, Right to Recall, providing powers to Gram Sabha and Daptar Dirangai to reduce corruption further, Hazare said on Wednesday that a mechanism for implementation of laws was equally important. He said that retired judges, bureaucrats and police officers who wanted to join fight against corruption can send their names on post cards to Ralegan Siddhi.
Besides, he would undertake nationwide tours to identify such volunteers.