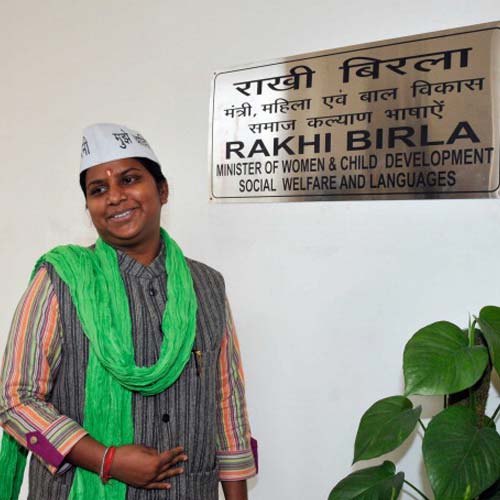 Elected as a minister at an age of 26-year-old, Rakhi Birla is not only ahead of her generation but is also the youngest minister in Arvind Kejriwal's Delhi cabinet.
Birla, being the only women face in the party, had emerged as a giant killer after thumping the four-time MLA and PWD Minister Raj Kumar Chauhan in the Sheila Dikshit government in Mangolpuri by more than 10,000 votes.
Before joining AAP, Birla had worked with a private news channel, Jain Tv. She has also worked in collaboration with social organisations for the cause of the Valmiki community.
Birla, who herself hails from the Valmiki community, and her father were associated with the Congress for a long time but quit the party in 2011 during the Janlokpal movement.
Rakhi, born in Delhi to Sheila and Bhupendra Singh Bidhlan, is the youngest of their four daughters.
Rakhi's last name, Birla, got stuck with her after her school teacher made a mistake while preparing her Class X certificate and wrote Birla instead of Bidhlan — her actual surname.
She has declared assets worth Rs 51,150 in her election affidavit. Her family has been related to social work since the last four generations; her great-grandfather and grandfather were also part of India's freedom struggle.
After graduating from Delhi University's Shivaji College, she did her Masters in Mass Communication and joined a local television channel as a reporter.
During her stint as journalist, Birla covered the Janlokpal movement, through which she came in contact with India Against Corruption and the current Delhi Chief Minister Arvind Kejriwal.
When Aam Aadmi Party was formed, she joined the party and fought the elections from her home turf, Mangol Puri (Delhi) constituency, where she registered one of the biggest upsets by thumping Raj Kumar Chauhan who was considered invincible from the reserved constituency.