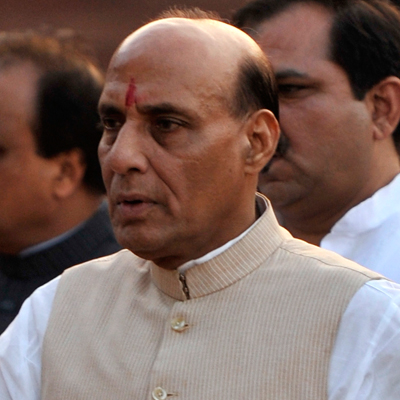 Bharatiya Janata Party (BJP), president Rajnath Singh met Muslim clerics on Monday to garner the community's support before elections in Lucknow.
Singh said he met Muslim cleric Kalbe Jawad to offer his respect to the acclaimed religious leader.
"I have already clarified that Bharatiya Janata Party is one such political party that cannot instill hatred between human beings and does not hate them either, we consider everybody equal. Jawad sir is our religious leader and I had come here to express my respect for him," he said.
Singh's meeting with the Muslim clerics follows Congress party president Sonia Gandhi meeting with a Muslim delegation led by Delhi Jama Masjid Imam Syed Ahmed Bukhari, earlier this month, to woo the Muslim community and their meeting had created quite a furor within the political scenario.
Jawad, said the discussions between them will be put forth before the community, but it is upto them to vote for the BJP or not.
"See, we have spoken to him, he has made promises to us and to the Muslim community. We cannot force our community to follow what we say; We just put forward our opinions before our community. If they accept our views, it is fine, if not ,then we agree to whatever the community feels. I have told him that I shall put before them whatever you have conveyed to us," he said. Singh had also mentioned about his meeting with the Muslim clerics on social media site Twitter saying 'Had meetings with renowned clerics like Maulana Kalbe Sadiq, Maulana Khalid Rasheed and Maulana Kalbe Jawad in Lko' and had also put up a picture of his meeting with Muslim cleric, Kalbe Sadiq.
Singh emphasised on the unity of all religions in the country. "I believe that if we want to make India a strong and harmonious nation, we will have to move ahead with people of all religions, and this is what our Bharatiya Janata Party thinks. So, as a party president and I am also contesting elections from here, I decided to visit religious leaders to offer my respect," he said.
Muslic cleric Khalid Rasheed welcomed Singh according to the city's traditional culture.
"We met and told him that Lucknow is renowned in the world for its 'Ganga Jamuna' culture (a conflux of Hindu Muslim culture) and it should be so maintained and we welcomed him in accordance with the culture of Lucknow." he said.