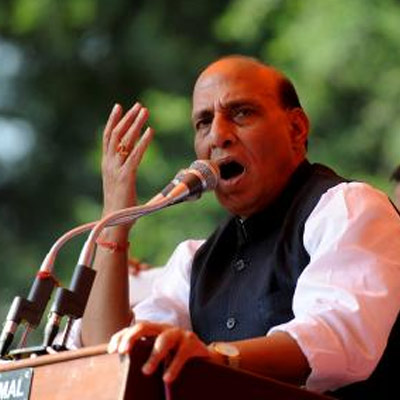 BJP President Rajnath Singh today attacked Rahul Gandhi over alleged land deals involving his brother-in law Robert Vadra, saying just like the 2G scam there is also a "jija ji scam" during the Congress' rule.
Singh said poor farmers must be given insurance cover for their agricultural land.
"Just like there is insurance cover given to persons, there needs to be insurance of agricultural land as well," he said at a public meeting in Sidhpura under Etah Lok Sabha constituency.
Singh said Congress has divided the country and the people must be wary of "shackles of slavery" in the country.
He was campaigning for former Uttar Pradesh chief minsiter Kalyan Singh's son and BJP candidate from Etah, Rajvir Singh.
The BJP President said that if voted to power his party would provide six months skill training to unemployed youth and provide loans to render them self-employed.
He also said measures would be put in place to ensure women's safety.
Addressing an election rally at Hathras, the BJP president said that Narendra Modi would be the next Prime Minister and no one could stop him.
Attacking SP and BSP, Singh alleged that by supporting the governments of scam they have caused a huge damage to the country.
He exuded confidence that BJP would win more than 300 seats in the Lok Sabha elections.
Addressing a rally in Mathura, Singh said that BJP-led government will be formed in Uttar Pradesh if the party comes to power at the Centre.
"Nobody can stop formation of BJP-led government in UP if the party led government comes to power at the Centre," he said.
The BJP president also criticised the SP, BSP and Congress.
"Strange enough they criticise each other in UP, but SP and BSP are supporting Congress-led government at the Centre even though it is in grip of corruption," he said.
Singh also referred to a farmer-oriented scheme prepared by him during Atal Bihari Vajpayee led BJP government at Centre while he was Agriculture Minister.
Unfortunately it could not be implemented owing to elections, he said.
"The scheme was so farmer oriented that even Union Finance Minister P Chidambaram had appreciated it in his maiden budget speech but it was not started.
"The scheme proposed relief to farmer through insurance if his crop is devastated because of hailstorm, flood, fire etc," he said in Chhatta Assembly seat,
"To overcome unemployment problem, youth will be trained in different trades. The loan facility from banks at three to four per cent interest rate will be given to them," he said.
"Hema Malini is the BJP nominee from here and if she requests for any scheme for Mathura after being elected, even Prime Minister will not be able to refuse," he said.
Speaking at the meeting, Malini assured people that since she is a devotee of Lord Krishna, she would work like 'Gopi' for development of Brijbhumi.
"I would work like Gopi here," she said.