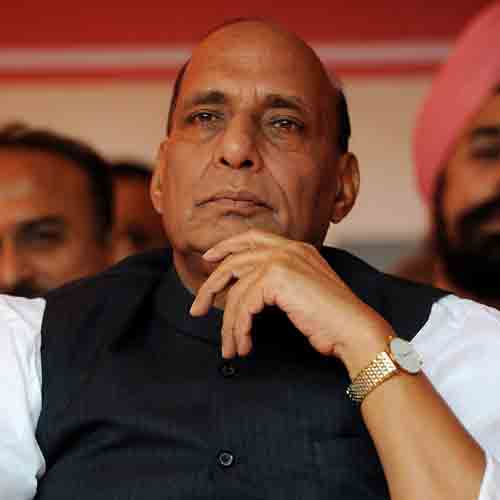 Bharatiya Janata Party (BJP) President Rajnath Singh has flayed the ruling Congress party for faulty economic policies and said they have not been able to control poverty in the country.
"Your misfortune is not responsible for India's poverty and unemployment. But the faulty economic policies of ruling Congress, the faulty control measures and corruption are the main reasons due to which the issues of poverty and unemployment in India have increased," Singh said, while addressing a rally in Jabalpur on Monday.
Singh also insisted that the people of Madhya Pradesh should work towards making the state free from Congress rule, and said if this is achieved, then only true development will take place.
He also mentioned that Congress party's Vice-President Rahul Gandhi should take back his recent remark where he accused the Rashtriya Swayamsevak Sangh (RSS) of killing the Father of the Nation, Mahatma Gandhi.
"Kapur commission (set up in 1966 to inquire into the assassination of Mahatma Gandhi) also clearly mentioned in its report that the allegations of Mahatma Gandhi's assassination on RSS is absolutely baseless. Despite that Rahul Gandhi, who is a senior leader of Congress, made such an allegation. I believe that he should take back his statement," added Singh.
On March 6, at a rally in Bhiwandi city of Maharashtra, Rahul Gandhi had alleged the RSS planned Mahatma Gandhi's murder.
However, the BJP on Sunday moved the Election Commission (EC) against Rahul Gandhi's remark. The saffron party in its complaint asked the Commission to take appropriate action against the Congress party and its vice president for violating the Model Code of Conduct.