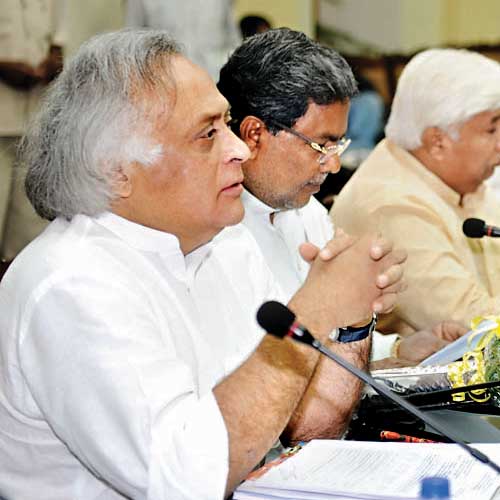 Union minister Jairam Ramesh today came down heavily on anti-Telangana MP L Rajagopal, who used pepper spray in the Lok Sabha, saying his action "has diminished all MPs" and demanded that he be debarred from Parliament.
"His (Rajagopal) action in Parliament has diminished all MPs and made us feel very small. He should be debarred from Parliament and debarred from contesting elections," Ramesh told PTI reacting to the Seemandhra MP's role in creating ruckus in Lok Sabha over introduction of the Telangana bill.
The Rural Development Minister, who was a key member in the Group of Ministers (GoM) on Telangana, said he respects Rajagopal's right to have different opinion on the issue.
"He may have his differences on Telangana. That is his democratic right. He can protest. But the manner of his protest was an assault on dignity of Parliament and for that alone he should not just be censured but he should be debarred from Parliament," he said.
Ramesh said he had a chat with the Vijayawada MP 10 minutes ahead of the "assault" in the Lok Sabha.
He also said he never expected such an action from Rajagopal who is his friend. Rajagopal was recently expelled from the Congress along with five other Seemandhra MPs for pressing for non-confidence motion against the UPA government.
"The strictest possible action under all sections of the law... whatever law has to be (taken against Rajagopal)... It is unacceptable, what he did. He has assaulted the dignity...," Ramesh added.
His comments came hours after BJP leader and Leader of Opposition in the Lok Sabha Sushma Swaraj alleged that the incidents in Parliament was a "drama" enacted by the ruling Congress.