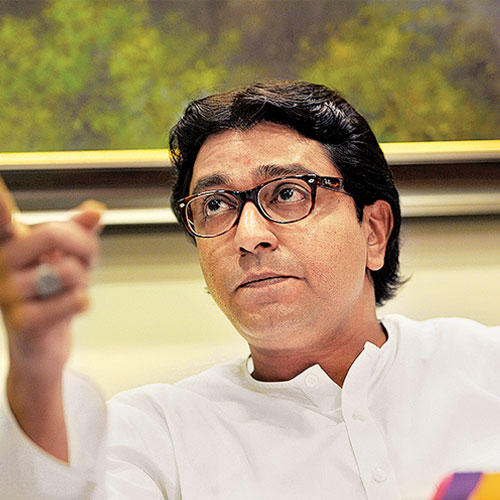 Maharashtra Navnirman Sena (MNS) chief Raj Thackeray finally announced on Saturday that he would be contesting this year's Assembly polls in Maharashtra.
He will be the first member of the Thackeray family to contest an election till date.
After witnessing a major fall in the recently concluded Lok Sabha elections and failing to counter BJP-Shiv Sena's march to the Centre, Thackeray announced his decision to contest elections. Prior to this, there were rumours senior leaders from MNS wanted to pitch Raj as the probable CM candidate for the state of Maharashtra.
Also read: Maharashtra assembly polls to pit Uddhav Thackeray-Raj Thackeray against each other
In the recently concluded elections, MNS failed to win even a single seat. Add to it, many of MNS candidates lost their deposits while the BJP-Shiv Sena performed well in the Maharashtra. The party candidates could not cross one lakh mark in nine constituencies, except for in Kalyan.
Raj Thackeray broke away from Shiv Sena in 2005 to form his own party MNS. Since then, Uddhav and Raj have been opponents and vocal about dislike for each other.
Prior to this, after MNS failed in elections, the Maharashtra Navnirman Sena chief Raj Thackeray had decided to reach out to the people of the state to explain "what went wrong" with the party. The only comment that came from Thackeray after the election debacle was that "Modi Won. Everyone else lost."
He had congratulated his estranged cousin and the Shiv Sena president Uddhav Thackeray for his victory, by sending a bouquet.
He addressed his first ever public rally in Mumbai after the elections today ahd made his decision public with an aim to make his party's stand clear on the debacle and to answer some "uncomfortable" questions while trying to change the party's fortunes.
Below are some reactions on Twitter:
It's important to take a stand. At the right time! And being first to do so will surely have its rewards. All the best #RajThackeray !

— Manali Satam (@manali_s) May 31, 2014
Honestly Raj Thackeray had to announce his candidature to save the party fortunes after LS polls.

— Kajal K Iyer (@Kajal_Iyer) May 31, 2014
Raj Thackeray would be the first Thackeray to fight polls. Truly a Modi effect.

— Nistula Hebbar (@nistula) May 31, 2014
#RajThackeray makes a big announcement-to contest from an assembly constituency himself. He will be the first Thackeray to contest any poll.

— Kunal Purohit (@kunalpurohit) May 31, 2014