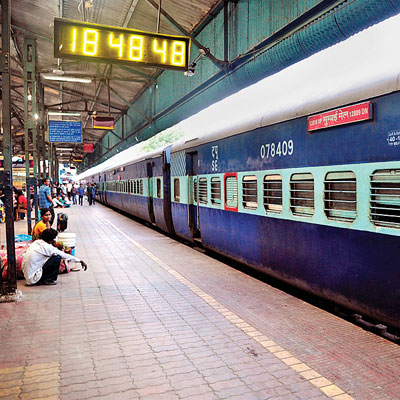 After the fall of grand old party Congress, which had an election manifesto based on socialist policies and Narendra Modi's elevation to PM post on promises of development and governance, the recent rail fare hike has ruffled many feathers from different sections of the society. The unpopular decision to hike railway passenger fare was on Friday increased by 14.2% in all classes while freight charge was hiked by 6.5% with effect from Friday. This decision has not been received well by various politicians and common public who are complaining about BJP's failed promises after forming the government with a thumping majority.
Also read: Congress hits out at Arun Jaitley for defending rail fare hike
Former Prime Minister and JDS chief HD Deve Gowda has flayed the steep hike in railway fares and freight charges, saying it was contrary to the Lok Sabha election campaign of Prime Minister Narendra Modi to combat the price rise. "In spite of the present Prime Minister fighting Lok Sabha elections on major issues including price rise, the Railway Minister has gone ahead with the announcement of increasing passenger fare hike, which will have many implications," Gowda told reporters.
"Ab ki bar Double Speak Sarkar... Modi wrote a letter to PM in 2012 on the Rail fare hike! ACHHE DIN AA GAYE!," Congress general secretary Digvijaya Singh said on Twitter.
Though the simmering anger was imminent, the outward backlash needs to be introspected upon from varying degrees. From a socialist point of view, this will affect the marginalised sections who will face the brunt of price rise as railways are the most preferred mode of transportation. Congress always used the socialist policies as its trump card in elections, a factor which backfired strongly. This makes flying an attractive option but again, marginalised sections cannot afford that either.
The fare increase announced on Friday is being seen as part of the reform measures which prime minister Narendra Modi said will have to be administered to revive the economy which fell to its slowest growth rate in a decade under UPA rule.
Clearly, the major losses incurred during UPA's tenure due to quasi-socialist policies have created a mess for the new government at the Centre. In order to make amends and restructure the entire financial structure of the country, the new government had to take some stringent measures which included the railway tariff rise.
Supporting the government's move before bringing roling a new budget, Arun Jaitley said that it was 'difficult but correct decision'. Union Finance Minister Arun Jaitley on Saturday said the railways can survive only if users pay for availing of facilities.
"The passenger services have been subsidised by the freight traffic. In recent years, even freight fares have come under pressure," he said in his first reaction to the 14.2 per cent increase in passenger fares and 6.5% hike in freight rates.
Stating that the choice before the government was to allow the railways to bleed and eventually walk into a debt trap or raise fares, Mr. Jaitley said, "India must decide whether it wants a world—class railway or a ramshackled one.
"The Railway Minister has taken a difficult but a correct decision...The Indian Railways for the last few years have been running at a loss. The only way that Railways can survive is when users pay for the facilities that they avail," added Jaitley.
According to reports, the personnel costs and operating costs have increased several times over the past decade for Indian railways. Fares have been hiked both in 2011 and 2013, offsetting a good percentage of the loss. The maintenance of passenger coaches and goods wagons is poor and often results in derailments and other accidents.
New railway line projects are often announced without securing additional funding for them. A large number of these projects are not profitable and do not get completed within the scheduled time. As on 31 March 2011, 347 projects including new lines, doubling and gauge conversion were pending and their costs have increased to INR1472 billion (US$25 billion). However, the railway budget for 2012–13 had provided only INR130 billion (US$2.2 billion) for the projects.
Hence, it is imperative that the new government at the Centre take a strong stand to revolutionise Indian railways which has been criticised time and again for its shoddy maintainence and lack of Research and Development. The current fiscal policy is unfavourable for the government to consider subsidising prices and with a growth agenda, the price rise definitely makes sense. But, the government should atleast consider rolling back the prices once the growth sentiments are stable. Otherwise, the government may face flak for being pro-business and ignoring the masses.
Below is a break-down of prices:
HIKE IN THE FARES
Delhi - Mumbai
Rajdhani
1A - Rs 4135 - 4722
2A - Rs 2495 - 2849
3A - Rs 1815 - 2072
Delhi Bangalore
Rajdhani
1A - Rs 5915 - 6754
2A - Rs 3585 - 4094
3A - Rs 2600 - 2969
Delhi Kolkata
Rajdhani
1A - 4390 - 5013
2A - 2635 - 3009
3A - 1915 - 2186
Delhi Chennai
Rajdhani
1A - 5635 - 6435
2A - 3440 - 3928
3A - 2515 - 2872