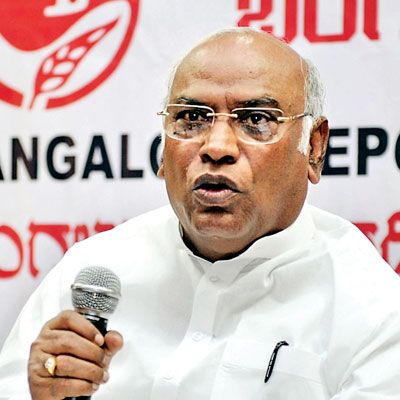 Railway minister Mallikarjuna Kharge breaks a rule that he himself had created just 15 days ago. He created a new post for deputation of a senior railway officer, who also happens to be wife of one joint secretary in ministry of finance under P Chidambaram.
The case pertains to hasty appointment of Pramila Bhargava to the post of joint secretary (confidential) on the Railway Board on March 18. She was a joint secretary- rank official in the Dedicated Freight Corridor Corporation of India Ltd – a special purpose vehicle under the ministry of railways for the implementation of the Delhi-Kolkata, Delhi-Mumbai and other freight corridors.
On 3 March, Mallikarjuna Kharge issued a circular, saying that any deputation post will require inviting of applications from the railway officers. But he bypassed the process of inviting application and his private secretary just sent a note to post Bhargava as Joint Secretary (confidential), railway sources disclosed.
Private secretary to the railway minister Rajendra Kataria in his defence says: "Application would have been required in case of a vacancy. In this case, however, no application was required as it is case of re-designation of the post."
Documents available with dna, however, speak contrary to what Kataria claims! A circular issued by Ministry of Finance on 27 May 1977 issues guidelines for all the ministries: "It has been decided that such cases of diversion/transfer/adjustment of posts would amount to creating new posts... Prior permission should be obtained at the appropriate level before resorting to such a practice."
To top it all, the post of joint secretary (confidential) had not existed in the Railway Board. It was a new post created for Bhargava, sources said.
Let alone the internal order of the Railway Board, the appointment has also violated the procedures of the Transaction of Business Rules, 1961. The annexure II to the first schedule of the rules says empanelment of officers of All India Services, and Organised Group 'A' Central Services for holding Secretariat posts at the level of joint secretary, additional secretary and secretary in the Central government, requires the prior approval of the cabinet committee on appointments.
However, Mallikarjun Kharge did not take any such approval and brought in a senior officer on deputation on the sly, when the entire nation is engaged in parliamentary elections.