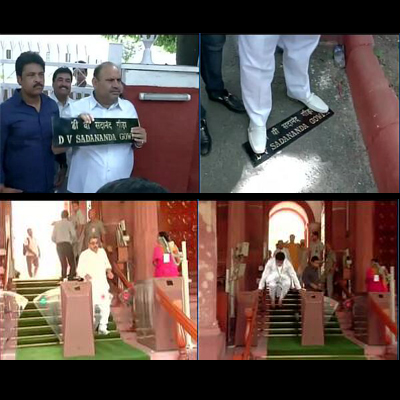 Railway Minister Sadanand Gowda bore the brunt hours after the highly expected Rail budget rolled out. Many Congress workers took to streets protesting and shouting slogans against the newly announced budget.
The displeasure over the announcement of the allegedly 'anti-poor' budget took the protestors outside Gowda's Tyagraj Marg residence where they continued to raise slogans against the newly elected government.
The protest took a startling twist when Congress leader Mukesh Sharma pulled off Gowda's brass name plate and stomped over it. Congress Leader Arvinder Singh Lovely took control of the situation and explained to him that the party believes in non-violent protests. The protestors also tried to stop Gowda's car by surrounding and blocking it.
Earlier today Congress slammed the Railway Budget as "pro-rich" with former Railway Minster Mallikarjun Kharge insisting that it is bereft of any new scheme, plan or railway line and seeks to please the home state of Prime Minister Narendra Modi. Kharge, who is also Leader of Congress in the Lok Sabha, said that "the budget is only for Ahmedabad."
He also ridiculed the government's plans to introduce a bullet train in Mumbai-Ahmedabad sector and setting up of a Diamond Quadrilateral network of high speed rail connecting major metros and growth centres. Read More.
Read here to find the 7 must reads on #RailwayBudget.
Here are some of the reactions caught on Twitter:
Congress protest outside Rail minister Sadananda Gowda's residence, 'gherao' his car pic.twitter.com/TM8cMYtazU

— ANI (@ANI_news) July 8, 2014
Congress leader Mukesh Sharma removes Rail minister Sadanand Gowda's nameplate,steps on it #RailBudget pic.twitter.com/HVmPLoudde

— ANI (@ANI_news) July 8, 2014
We must protest peacefully, removing nameplate of Rail min and stopping his car is wrong,I instantly scolded my workers-AS Lovely,Congress

— ANI (@ANI_news) July 8, 2014
In yet another scenario, the clash between BJP and TMC MPs amidst the Parliamentary session offended the TMC party members.
TMC's Kalyan Banerjee alleged that BJP MPs threatened and abused two of their women party members when they were peacefully protesting inside the Lok Sabha. TMC's Shatabdi Roy also alleged that the BJP MPs creating the scuffle were drunk. Mamata Banerjee also termed the scenario as an unfortunate one.
We were peacefully protesting inside LS,one drunk BJP MP along with others came and threatened and abused us- Kakoli Ghosh, TMC MP

— ANI (@ANI_news) July 8, 2014
BJP MPs threatened us and badly abused our women MPs- Kalyan Banerjee (TMC) pic.twitter.com/EvrOwxaEDz

— ANI (@ANI_news) July 8, 2014
This is drama. Rail budget was being presented & TMC workers were raising slogans against PM: Jagdambika Pal on reports of BJP-TMC scuffle

— ANI (@ANI_news) July 8, 2014
Here are some of the general reactions on Twitter:
What is better? Attacking name plate or attacking train? #YouDecide :)

— Apolitical Arnb Modi (@justicearnab) July 8, 2014
I hope @arunjaitley will remove his name plate at his home before presenting budget for the sake of Mukesh Sharma.

— Ding!Dong! (@Kulfiboy) July 8, 2014
Seems BJP not the Speaker/Chair will decide who shud raise what slogans? And they will play d role of Marshals too? TMC-BJP scuffle in LS

— Shehzad Poonawalla (@Shehzad_Ind) July 8, 2014