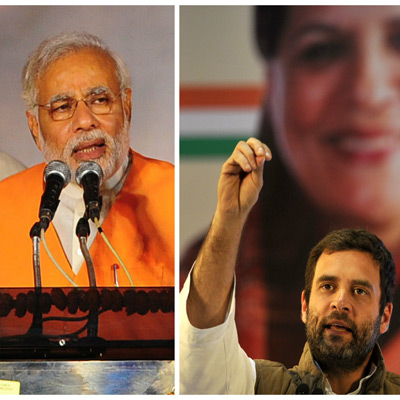 Taking a dig at Congress Vice-President Rahul Gandhi's infrastructure plans, Bharatiya Janata Party's prime ministerial candidate Narendra Modi said Gandhi would take 600 years to implement the map which he took 60 years to create in the first place.
Modi was addressing a rally in Belgaum, where he accused the Congress of sky-high arrogance in refusing to answer the questions of people of the country on their performance during their tenure.
Mocking Gandhi's strong claims of infrastructure development, Modi said first Congress took decades to come up with the plans but the nation cannot wait for so long.
"The 'shahzada' (prince) has recently said that infrastructure map is ready in their minds. I want to ask him, did he take 60 years to create the map? If that is the case then it would take 600 years for him to actually implement it," said Modi.
Referring to the lack of infrastructure development in Karnataka, he asked why the state which is capable of developing good ports still lacks behind.
Highlighting the lack of electricity in different parts of the country, the Hindutva strongman asked why the power stations are not generating electricity.
"Don't we have coal mines? India has vast sources of coal which can last for many years but these mines have been locked. Why have they been locked? Simply because the coal files have been stolen and these files have been stolen because country's apex court asked questions like who has been stealing coal?" Modi added.