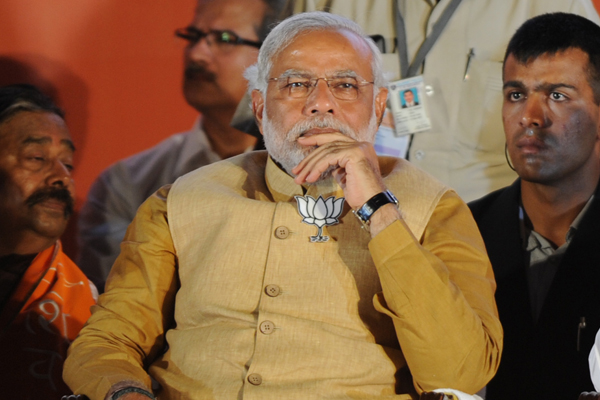 Hours after Rahul Gandhi ruled out supporting a Third Front, BJP leader Narendra Modi said the Congress leader has changed tack after realising that statements from several leaders of his party, about supporting such a dispensation, had "damaged" its poll prospects.
Urging people to vote for a strong BJP-led government in last two phases of polls, the BJP's prime ministerial candidate said Congress had already begun plotting about disrupting the future government as it was aware that it had lost Lok Sabha elections.
"They thought even if we lose, we will help Third Front.
Several Congress leaders made such statements. When they realised that it was damaging them, then Rahul 'bhaiyya' today tried to change it. They are shaken. They never thought that their house of cards will fall down like this," Modi said.
"You should recognise these people with malicious intentions. You should give mandate for a strong government.
Send 300 lotuses (BJP symbol) to Lok Sabha," he added in a 3D address.
He also attacked Congress for aligning with Lalu Prasad.
"You have brought Laluji out of jail. I tell you that you could empty all jails in India of such people and contest election with their help but you will still lose," he said.
Touching on the "underdevelopment" in the eastern part of country, Modi claimed he would work to bring states like Bihar, West Bengal, Odisha and UP at par with western states.
Invoking 'Ma Ganga' and rampant pollution in its water, Modi said he would do his best to clean the holy river if voted to power and attacked respective governments for doing "nothing" for cleaning it despite spending huge sums of money.
Ganga and its tributaries play a crucial role in agriculture and are also a source of drinking water in eastern UP and parts of Bihar which are going to polls on May 7 and 12.
"Ganga is such a subject which has not been yet seen through the colour of religion... The committees under prime ministers were formed which never met. There is no account of all the money and no result of all the work. You bless me that my strength and wisdom help effect change in Ma Ganga," he said.
Talking about his "inclusive" agenda, Modi said time has come for Hindus and Muslims to work together for development and they should fight together against poverty instead of among themselves.
Stressing that the country needs a new culture of politics, he said Congress and other parties like SP and BSP believed in dividing India while BJP dreamt of a digital India. "They have made it 'scam India', we want to make it 'skill India'," he said.
Hitting out at respective UP governments for the death of over a lakh children to encephilitis in the eastern region, he said it appeared that we were still living in 18th century.
Referring to his campaign in Seemandhara, which also faces election on May 7, he said it was clear that it would not become "scam Andhra".