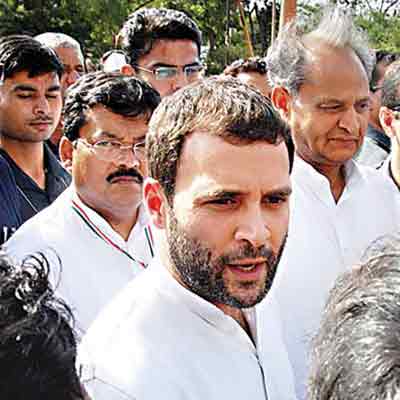 Accusing EC of adopting "double standards", BJP today asked why no action was taken against Rahul Gandhi for entering EVM area of polling booths in Amethi when suo moto action of registering an FIR was taken against Narendra Modi for addressing press near a booth last week.
The BJP feels the EC has not been acting in a "fair and neutral" manner as far as party, particularly its Prime Ministerial candidate, are concerned.
BJP, including Modi, has "genuine grievance" against the EC, said a senior leader on condition of anonymity.
"There is an FIR against Modi, FIR against (TDP leader) Chandrababu Naidu, but no FIR against the Congress leader...Because, the king can do no wrong, says an old saying," BJP leader Venkaiah Naidu told reporters sarcastically.
He said Rahul, contesting from Amethi, had gone to EVM enclosures during polling hours but there was no action against him.
On the other hand, immediate filing of FIR was ordered against Modi on May 30 when he addressed press "outside the prohibited limit" of a polling booth in Ahmedabad, Naidu said.
After directing lodging of FIR against Modi, the EC had sought compliance report by the evening that day.
"Here it is clear...I brought to the notice of Election Commission also when I met them (Commissioners) on the issue.
Why double standards, why different yardsticks," he said.
"There is no explanation why the Returning officer or the other officers did not act," he said.
The Election Commission later said that it was seeking a report against Rahul entering polling booths and was ascertaining the "factual position".