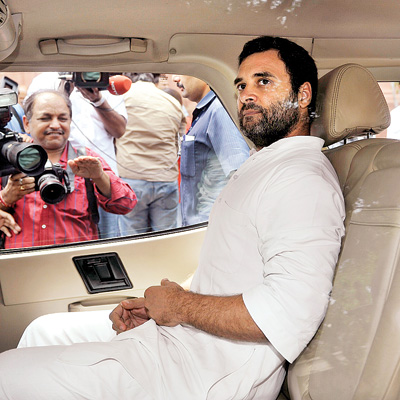 A recluse and backbencher Congress vice-president Rahul Gandhi on Wednesday donned a new avatar, leading opposition members in the well of Lok Sabha, demanding an urgent discussion on communal situation and revival of Communal Violence Bill, that lapsed with the dissolution of 13th Lok Sabha. But, little realizing that previsions UPA government sat on the CV Bill for more than 9 years, which was drafted in 2005 in the wake of 2002 Gujarat riots and ultimately gave up its introduction in February 2014 for want of consensus.
Rahul's charge to force a discussion on communal situation is seen an attempt to shun the impression that he was not fit to lead from the front. Over past few weeks, voices inside Congress to bring his sister Priyanka Gandhi are becoming shriller, to salvage the party humbled in the recently concluded Lok Sabha polls. Many Congress leaders feel that recluse attitude of Rahul is demoralising part workers. But unlike in the past, he has been attending the session regularly, though sometimes found playing with his mobile or sleeping on the back benches. Out of the 20 sittings of the Budget session that started on July 7, he has attended 15 sittings.
Rahul continued his aggressive show outside the House as well, accusing the speaker being partial and siding with the government by not allowing discussion.
"Only one man's voice is heard. We are not being allowed to speak in parliament. We are asking for discussion. There is a mentality in the government that discussion is not acceptable. Everybody feels it, their party feels it, we feel it, everybody feels it," Rahul told reporters.
Earlier, he also shared his anguish earlier in the lobby of the House with BJP patriarch Lal Krishna Advani during their chance meeting during an adjournment. He blurted out to Advani that the Opposition is not being allowed to speak.
Rahul was joined by the RJD MP Pappu Ranjan Yadav in the well, while Malikarjun Kharge continued to protest from his seat.
This made BJP MPs to sarcastically shout, "Kyon do Pappus well mein hain?" (why two Pappus in the well). Finance minister Arun Jaitley dubbed Rahul's "contrived aggression" in the Lok Sabha as a compulsion as the party leadership was facing a palace coup within - a hint at the reports that some Congress leaders are urging his sister Priyanka Gandhi Vadra to play an active role. Jaitley said Rahul was making an issue out of a non-issue.