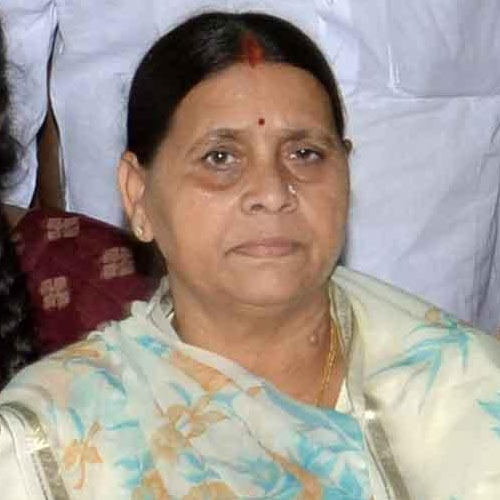 Rabri Devi has complained to Chief Election Commissioner VS Sampath that her rival and BJP candidate Rajiv Pratap Rudy has hatched a conspiracy to kill her on the pretext of checking her vehicles.
Claiming that the station house officer of Sonepur police station Chandra Bhushan Mishra was also a party to the plot, she urged the CEC take immediate action against those involved in the conspiracy and remove Mishra from all election related work.
In a letter faxed to the CEC, Rabri Devi has written that a West Bengal registered vehicle bearing a number plate WB 02R 1088 chased and tried to overtake her convoy for in a stretch of almost three kilometres. Four or five civilians were in that vehicle.
Alleging conspiracy by communal forces to stop him, RJD president Lalu Prasad said he will also complain about the matter to the Election Commission, after his party's cavalacade was stopped by police and district officials when they were returning from a campaign in Saran district.
The incident occurred during the wee hours at Shivbachan Chowk in Saran, when a team of police and administrative officials stopped the RJD cavalcade for election related checking, police said.
Prasad and his wife Rabri Devi, both opposed this on the grounds of "non-availability" of women police personnel and search order papers.
The atmosphere was vitiated with frayed tempers and exchange of angry words, police said.
A large crowd of RJD supporters also assembled around.
An empty black SUV present on the spot and without a hind number plate added to the drama.
"Eight criminals were following us in this black SUV since we started from Chhapra. The plan was either to kill us or to implant cash in our vehicles. When they could not overtake us, the police stopped us on the pretext of search without any women constable or proper permission papers," said Prasad.
"This black SUV was following us for a long time. This is a conspiracy to kill us. The police had checked our vehicle and suitcase earlier also so there was no reason for checking again," Rabri said.
After a heated exchange of words, Prasad lost his temper and lambasted all the government officials present there, who beat a hasty retreat.
Rabri went to Sonepur police station to file a case alleging threat to her life. The policemen there have accepted her complaint, but are yet to register an FIR.
"This was a conspiracy by the communal forces to stop us. This was done intentionally. There was no videographer with the police. They tried to harass a woman candidate. I am not letting this go. We will be complaining to the EC today itself," Prasad said.
Meanwhile, the police gave another version about the incident. They said the action was initiated after they got information that Prasad and Rabri were allegedly distributing money in the constituency.
Saran Superintendent of Police Sudhir Kumar Singh said, "We got information that Laluji and Rabri Devi were distributing money in Dighwara area of Sonepur. Accordingly, suitable action was initiated. The SDO, DSP and other officials were also present when both the leaders were stopped for checking."
Singh dismissed the allegations about absence of women constables there and said Rabri Devi has got women policemen with her and they were present there. He alleged both RJD leaders and their supporters tried to obstruct government officials from doing their duty.
"What I have learnt is that both leaders and their supporters stopped government officials from doing their duty.
The videographer present with the team was beaten up and his camera was vandalised," the Saran SP alleged, adding, "I have summoned the DSP and the SHO to enquire into the matter." Sources said senior administrative officials are also holding a meeting on the entire issue. They will decide what action to take on the matter.
"Meanwhile, Sonepur SHO Chandra Bhushan Mishra and others stopped our vehicles for checking. We complied with it without any opposition, but their intention was to insult and behave badly with me, as well as, to kill me," she said in the letter.
Rabri alleged that there was no woman police personnel or videographer with the checking team and Mishra was using abusive language.
"At this juncture, my husband Lalu Prasad who was following me arrived. The SHO and other civilians with him fled away on seeing him. I feel this was done on the direction of my opponent and BJP candidate Rajiv Pratap Rudy, who in nexus with Mishra and others wanted to get me eliminated so that the elections are hampered," she said.
The RJD candidate also faxed a copy of the letter to the Chief Electoral Officer of Bihar, Saran DM, election observer of her constituency and the district SP there.