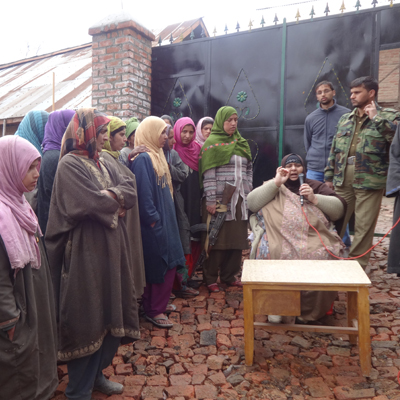 Another spell of spring shower was drenching Srinagar as Rabia Altaf, aka Rabia Baji, 47, chaired a meeting in a building in Srinagar's Jawahar Nagar with the parents of students enrolled in different institutes across India under the much touted and equally controversial Prime Minister's Scholarship programme.
She was assuring the parents all help to restore the admission of their children, who were suspended by Meerut University for 'cheering' Pakistan's win over India in the Asia Cup earlier this year.
It was her NGO, the All India Centre for Urban and Rural Development (AICURD), which distributed some of the Rs 1,200 crore Prime Minister's Scholarships among Kashmiri students. The scholarship was started in 2010 and expected to benefit at least 25,000 students hailing from families with income below Rs 4.5 lakh per annum. "After parliamentary elections, I will resolve the matter," she assured the parents.
On April 30, Baji will be contesting her maiden election against the National Conference's (NC) Farooq Abdullah, the PDP's Tariq Hameed Qarra and 11 other candidates for Srinagar Parliamentary seat with a poll strength of 11,71,772.
As the crowd filled the room, Baji candidly asserted that the parents of the scholarship earned students helped her in election campaigning. "Most of these families are from rural Kashmir," she said. "They organised small gatherings in their villages for me." It is believed that Baji's good relations with a vast number of students and the parent community might work in her favour in the ongoing elections.
But the fact that she is her less known might also go against her. It was, in fact, the Meerut incident which threw media attention on her. She said she did her best to help the students, who were suspended and slapped with sedition charges after the India-Pakistan Match. "After that incident, various parties flared it like anything," she said. "They used children for framing me in the incident. They destroyed my office. I am not here for rehabilitation of Kashmir; I am here for rebuilding Kashmir. But I am happy that parents of the students showed me positive response." She said it was the Meerut incident which compelled her to contest Lok Sabha elections.
In 2004, Baji returned to Kashmir with the motive to 'highlight' common issues. In the same year, she set up an off-shoot of a Delhi based NGO, AICURD, owned by DP Ray, a senior Congressman from Kolkata. But recently, Ray's son Tathagat Ray made it public: "Baji is independently running her NGO and we are not related with it in anyway." Baji termed it an "internal matter" and something very "personal" to talk about. "And yes," she said, "I am presently running my NGO independently with the help of public donations and finance provided by my husband." An active member of the Congress for many years, her nomination papers reveal that she own property assets worth Rs 29.50 lakh.
A post graduate in Psychology from Delhi University, Baji is married to a Srinagar-based Pashmina manufacturer, Mohammed Altaf. Apart from parents of PM scholarship earned students, she says, her husband is also helping her in election campaigning. "He has been my support throughout my life," she said. "He is into Kashmiri handicrafts—Pashmina business."
In 2010, when street protests simmered in the Valley, many 'emissaries' were seen working for the restoration of calm in Kashmir. It was during that time Baji got involved. She said she was part of different 'peace processes,' in Kashmir. She was involved with the recent interlocutors' engaged with Kashmir. Besides, she was the brain behind starting the Shehr-i-Khaas cricket tournament in 'volatile' downtown Srinagar. "The cricket tournament was organised after the 2010 uprising; and it was my purely my idea," she said. "But General Atta Hasnain, the then GOC and the then DIG H L Lohai were of great support to me."
A Hindu by birth, Baji converted to Islam at the age of 22 in 1989. "It was own personal decision," she said. "Soon after converted to Islam, I was living all alone in the Valley. And then in 1993, I moved to Delhi and returned to Kashmir in 2004." Her family had migrated from Kashmir in 1947.
She believes the Kashmir issue is a broader spectrum, "but the common problems of Kashmiri solve them at least first. And that is why, I am in contest".
With noticeable change in Valley's weather in this election year, Baji appeared upbeat to put up a stiff competition. Indeed, her scholarship ride isn't over yet.