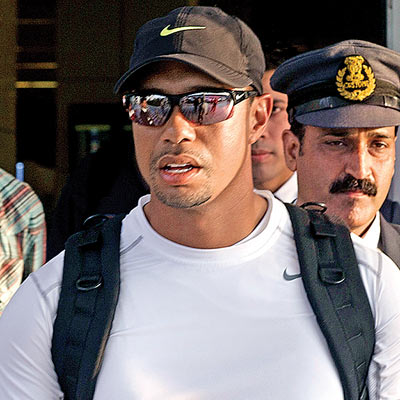 This is one match Pawan Munjal certainly wants to win, especially because he has Tiger Woods on his side. As you read this, a skins game is underway between two teams on the 16th, 17th and 18th holes of the Delhi Golf Course. Pawan Munjal-Tiger Woods vs Shiv Kapur and Anirban Lahiri.
Giving Munjal company will be a select group of media honchos like Prannoy Roy and Aveek Sarkar while Rajiv Singh of DLF, who is really close to Munjal, will also be playing this special event.
Munjal's been a big evangelist for the game and bringing Tiger Woods on Indian soil is no less a feat even if it's strictly a private event. He has reportedly paid over $2.5 million to get a round of golf with him. Woods otherwise is known to charge anywhere upwards of $10 million to show face and play a full tournament. Indian tournaments, including those sanctioned by the European Tour, can hardly offer over 3 million euros. No wonder that Tiger's India visit has remained elusive so far.
Tiger will play about 14-15 holes and do a little practice at the historic Delhi Golf Course. Over 4,000 people will make for the galleries to watch Tiger nearly covering half the fairway of the narrow course.
One may argue that Tiger's visit to India is long due given the rising interest in the game. Hopefully this trip will not only promise him the potential but also get him to meet some India Inc honchos over the dinner party planned by Munjal for a select few. Money has been central to growing golf interest and perhaps Tiger's visit can add conviction to the same.
Shiv Kapur who is an integral Jpart of Tiger's India schedule admits the game needed someone like Woods to take the attention off this cricket-crazy nation and media. In an interview with the website golfingindian.com he said, "Cricket has always dominated sports in India, so for at least one day the world's top golfer is going to steal all the attention away from the cricketers. It will just be about golf and Tiger Woods." Lahiri who has played in the field with Woods admits this opportunity to play with him makes him feel like a 'kid in a candy store'.
Ashish Bharat Ram of SRF believes India alone doesn't benefit from Woods' visit but the world # 1 also gains a lot. "For sure. I think guys like Tiger, Phil, Rory can also gain a lot by building an Indian fan base beyond what exists today. Leave aside the state of our economy today, when things improve this will be a big market and from just their perspective it will be something that they will gain from. Plus, I think every big star owes this to emerging golf markets so as to encourage the development of the game."
Additionally India Inc's top honchos are all going to be in attendance at the club. From Singhs at DLF, the entire Munjal clan, bankers such as Manisha Girotra, who has flown down to Delhi for this, will be watching Tiger up, close and personal.
Who's playing with Tiger?
Pawan Munjal, MD, HeroMotoCorp
Rajiv Singh, Vice Chairman, DLF
Aveek Sarkar
Prannoy Roy
Horey, Distributor from Colombia
for Hero MotoCorp
Justice Vikramjit Sen, Supreme
Court of India
Shiv Kapur, Pro Golfer
Sharmila Nicollet, Pro Golfer
Anirban Lahiri, Pro Golfer