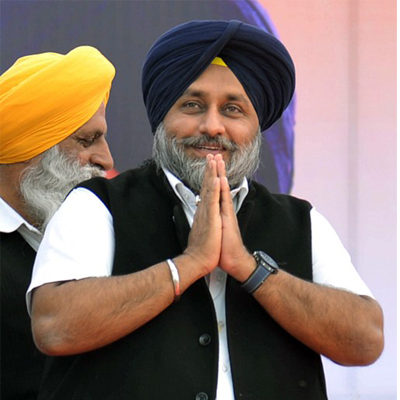 Asserting that it has zero tolerance policy towards drug smuggling, Punjab government today blamed the Centre and other states for not taking adequate steps to check drug inflow, saying Punjab is being used as transit route for drugs.
Giving a reply on cases registered against drug smugglers during the Question Hour in state Assembly here, Punjab Deputy Chief Minister Sukhbir Singh Badal said: "Punjab is not a producer of drugs. It is a victim of inefficiencies of other states and Centre as Punjab is a transit route of drugs." "Opium is not produced in Punjab. It comes from Madhya Pradesh and Rajasthan, while poppy husk comes from Rajasthan and Charas is produced in Himachal Pradesh," he said.
Congress MLA Rana Gurmit Singh Sodhi had sought reply from Punjab Deputy CM on July 18 on whether the state government will issue white paper regarding cases lodged against drug smugglers from January 1, 2014 and the number of police officials involved in drug smugglings with the details of departmental action taken against them so far.
Punjab Congress had even staged a walk out from the state Assembly on July 18 after Speaker granted extension to Badal for giving reply on issuing white paper pertaining to cases registered against drug smugglers.
Badal said Punjab was fighting the "nation's war against drugs" and had achieved "tremendous success" of snapping the supply lines and nabbing not just the drug kingpins but also their peddlers. While presenting a detailed report on the State's campaign against drugs, Badal said according to the reports of the Narcotic Control Bureau, Punjab Police alone had registered 16,821 cases under NDPS Act out of 26,658 cases across the nation, which amounted to 63 percent of all cases. He said the Punjab Police had also seized 417 kg out of the total of 1457 kg seized countrywide in 2013.
The Deputy CM said the government had moved effectively against smugglers by confiscating their properties. He said property worth Rs 66 crore had been seized. The Deputy Chief Minister said that Punjab has also launched a special drug-de addiction drive by engaging health department, NGOs and heads of religious organisations.
Referring to the drug de-addiction efforts being carried out by the state government, the Deputy CM said the DGP had also been directed to constitute divisional committees headed by the Zonal IGs to involve the Gram Panchayats in this drive.
He said five model drug de-addiction centres with a capital cost of Rs 5 crore having 50 beds capacity each had been planned out, of which two were fully functional. Badal said 21 government de-addiction centres at districts and sub divisional levels were already operational and 10 more de-addiction centres were under construction and would become functional very soon.
Badal also informed the House that recently the State Narcotics Control Bureau had been formed to eliminate drug menace.
Terming Goa as the hub of narcotics trafficking, Badal said it was ironical that only 55 cases were registered under NDPS Act in Goa while in Punjab 10,220 cases were registered, whereas Maharashtra registered 1,903, Rajasthan 1,115 and Tamil Nadu 1,402 out of the total 28,329 cases registered across the country as per the data provided by National Crime Record Bureau.
To deal with the medical psychotropic consumption of drugs, Badal said drug inspectors would be shifted to Police Department on deputation so that they could assist in operations against traffickers. To check the drug trade in the jails, Badal said "DGP and ADGP jails have been asked to conduct surprise checks in all the jails and if any police or jail official found involved in shady deeds he would be straightaway dismissed from service".
Calling upon all political leaders not to defame Punjab on the drug issue, Badal said, "We are facing a difficult situation but it was not as big as is being made out."
Congress MLA Rana Gurmit Sodhi demanded that drug cases registered against the youth should be cancelled and efforts should be made to rehabilitate them.
Badal replied to Sodhi that Punjab government would take a lenient view against drug consumers who were not involved in drug trafficking and in any other cases relating to drugs.