Locals believe indiscriminate use of heavy machinery to push terrace farming as major factor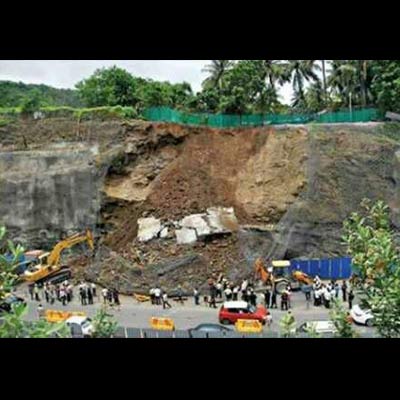 People in Ambegaon tehsil of Pune district, where a landslide left more than 80 people dead last week, are angry over the suggestion by the Geological Survey of India (GSI) that paddy cultivation contributed to the tragedy.
"The preliminary report by the GSI pointing to land flattening and terracing as the primary cause for the tragedy shouldn't be used to harass locals," says activist Anand Kapoor, whose organisation Shashwat has been working in the region for over two decades.
Kapoor admitted to concerns after eight other landslides had happened in Jambori Kalwadi, Taleghar, Malinghe, Ushire khurd Asaane and Kumbewadi on the day of the Malin tragedy, but stressed that there should be sensitivity towards the way of life of the local people.
"It needs to be understood that terracing for cultivation has been a traditional occupation of the local tribals, as across the Western Ghats. This important means of livelihood is limited in scale, location and implementation due to its inherent manual nature," he says.
But, it is also a fact that government departments (like the agriculture department) are using heavy machinery – earth movers – to push the terracing program. "Unscientific mechanized terracing, which comes together with muck dumping, slope instability, hampered drainage, play a huge role in magnifying the impact on a naturally vulnerable, high rainfall region," he points out.
The Dimbhe dam (with gross storage capacity of 38.22 MCM and live storage capacity 35.391 MCM) has a reservoir area of 1754.7 hectares and a catchment area of 30,000 hectares. According to the state revenue records, of this only 12,500 hectares is cultivable and a mere 5% is suitable for paddy cultivation. "For GSI to link this to the landslide is bunkum," says Kapoor.
He explained how the agriculture department introduced a scheme to improve the food availability after repeated demands by the local communities for government help in terracing that otherwise would have taken 4-7 years.
"The government introduced a pilot project under the EGS. When it received a good response, this was funded by the tribal development department. Once out of EGS, which only engages manual labour, the government began getting earth movers here from 2012 and that's when the problems began," he says.
Kapoor feels an independent credible review should be instituted on the land levelling activities under the government programmes, not just for agriculture but also the erection of windmills in the region, and that all use of heavy machines should be minimised till the report is received.
"According to the Western Ghats Expert Ecology Panel (WGEEP) Report and High Level Working Group Report (HLWG) management of the region is vital. Both have placed Malin and the neighbourhood in Ecologically Sensitive Zone I and Ecologically Sensitive Area (ESA) respectively," he points out.
The WGEEP notes: "Apart from substantial forest destruction (including forest department estimates of about 28,000 trees being cut) via wide roads cutting huge swathes through reserve forest, the windmill project has triggered large-scale erosion and landslides through poor construction of roads with steep gradients and all this rubble ends up on fertile farmland and in reservoirs of the Krishna."
Parineeta Dandekar of the South Asia Network of Dams Rivers and People told dna, "The forest department colludes with windmill project operators, illegally denying citizens access to the hills. The traditional forest dwellers' rights under the Forest Rights Act are not being recognized on the hills they've inhabited for centuries."
Some projects that are risky
Several other "ill-conceived projects" like townships, windmill farms, large dams and river linking projects, like Damanganga-Pinjal and Paar Tapi Narmada, are proposed in the region.
Near the Bhimashankar region, the Mumbai Metropolitan Region Development Authority (MMRDA) as well as the Brihanmumbai Municipal Corporation (BMC) are pushing for 12 large dams.
Some of these dams entail huge tunnels under mountain ranges of Western Ghats. Despite the several risks and impacts, many of these massive dams may also escape scientific impact assessments or public hearing.
These projects need to be urgently dropped, say green activists, as they have no justification in view of the options available in the cities for which these dams are proposed.
Similarly, the state government has plans to build three huge hydro power dams in the Velhe and Mulshi regions, which also fall in Pune district. There is evidence of slope instability in Velhe and it also falls in seismic zone IV, making any development work risky.