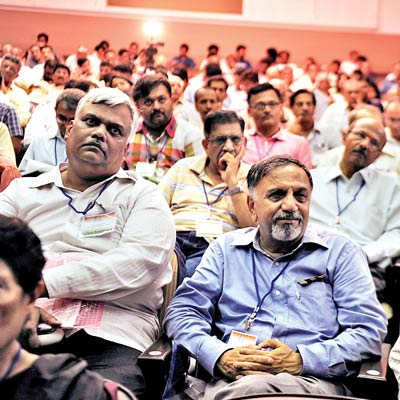 The two-day RTI convention ended on Sunday with over 350 RTI activists passing a series of resolutions aimed at strengthening the RTI Act that should improve transparency and help in better governance.
These included those relating to Supreme Court judgments effect on RTI, bringing public-private-partnership (PPP) models under the RTI and framing uniform rules for the Act among others.
Of the 14 SC orders that were talked about, only in two cases was the directive to provide information given. However, the number of cases in which the courts had denied information was higher. Activist felt that a number of SC judgments were curtailing the fundamental right of freedom and that citizens need to approach courts in some ways to put their case forward.
Hence, public discussion on SC orders was one such resolution. "It (convention) noted that SC had given many rulings that would constrict RTI. We believed that a number of meetings should be held to create discuss the issue after which we should approach the SC to revert some of these," said former central information commissioner, Shailesh Gandhi.
PPP models that are increasingly becoming the norm too were discussed. It was felt that they all be brought under RTI ambit as was the case with political parties. "The convention backed earlier decision of central information commission that PPP models should be under public scrutiny. A very strong case was made in case of political parties too," said Gandhi. Most of these were recommendations that a study had thrown up after analysing and talking to over 4,000 applicants across India.
Uniform rules that would be used for implementation of RTI Act was among the other demand apart from video-conferencing facilities and transparent process through which commissioners are appointed.