Rahul's reclusive sister visits party office, sparks rumours on her political plans.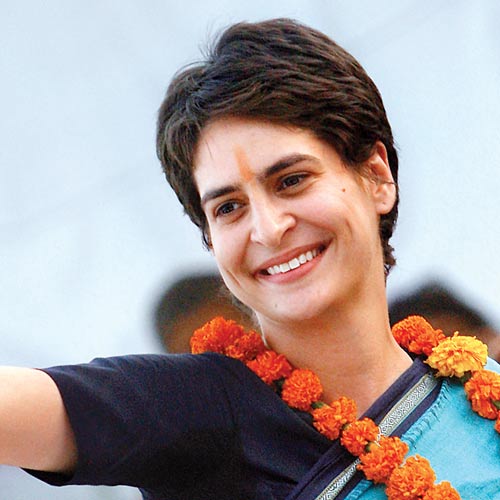 Following the electoral rout in four assembly elections recently that has raised serious questions about Congress vice-president Rahul Gandhi's leadership powers, Priyanka Gandhi-Vadra has agreed to play an active role, but without sidelining her brother. On Tuesday, Priyanka's presence at a meeting of senior Congress leaders at Rahul's residence has given rise to huge speculation.
The presence of Priyanka at Rahul's residence proves two things: one, she'll be campaigning, and two, she may go as replacement speaker for Rahul in some constituencies. The problem the Congress faces is that Rahul has not been pulling in as big crowds as his mother does. In Delhi, a meeting he was to address was aborted. After the drubbing in the recent elections, he is far from being a confident speaker.
Rahul seems pushed into a corner with no weapons in his limited repertoire to stop Narendra Modi, put a defensive wall against Arvind Kejriwal and AAP or mount any serious assault in UP. In fact, the importance of Priyanka comes in because Rahul might get bogged down in his home turf trying to stymie the challenge of AAP's Kumar Vishwas, who uses poetry to buttress his speeches and can turn out to be a formidable rival. Normally strong candidates are not put up against Sonia or Rahul by other parties but, this time, both the game and the players have changed.
The party recently acted tough on some Congress workers who put out posters inviting Priyanka to contest elections. They were suspended. The slogans read: "Since the mother is not keeping well and brother's burden has increased, Priyanka you become a candidate from Phulpur, campaign for the party, help Congress form the government for the third time". Phulpur was once a Nehru-Gandhi family seat.
Another unconfirmed report is that as Priyanka's husband Robert Vadra has amassed huge wealth in real estate deals, he will want to become a power centre in the party. After wealth comes power or the yearning for it, and Vadra will be reminding his wife of this. So far, there has been no sibling rivalry in the Congress, but there is no reason that it should not start now.
Top Congress sources, however, told dna that Priyanka has agreed to participate to ensure Congress victory in the Lok Sabha elections, but that she would just assist Rahul and his associates. "There is no question of her contesting the polls. But she will assist the party in various ways," a senior leader said. The job identified for her at the Congress war room would be to coordinate election management, that would prove crucial for the party's electoral fortunes.
A senior party leader present at the meeting said there was no move to project her as leader at the cost of Rahul. She takes care of engagements of Sonia Gandhi and Rahul and nurses their Rai Bareli and Amethi constituencies. The leader said she walked into the meeting to finalise the tour programmes of her mother and brother.
Party general secretary Janardan Dwivedi said there was nothing new in Priyanka talking to senior Congress leaders. He said she takes interest in party affairs and that nothing more should be read in her meeting with senior party leaders on Tuesday.