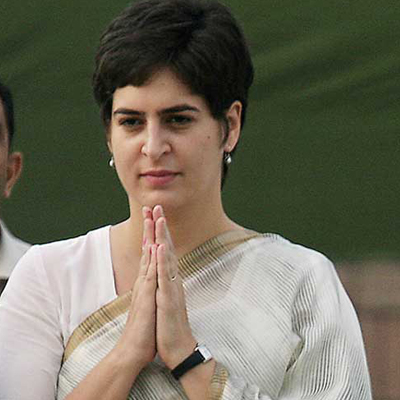 The Gandhi dynasty was locked in bitter exchanges today after Priyanka Gandhi said her cousin Varun Gandhi had gone "astray" and suggested that voters in Sultanpur in Uttar Pradesh from where he is BJP's Lok Sabha candidate should not vote for him.
Varun's mother and BJP leader Maneka Gandhi today hit out at Priyanka, saying the country will decide who has gone on the wrong path.
"If he has gone astray while serving the country, the country will decide," she said when asked for her reaction to Priyanka's comment.
At a meeting with Congress workers in Amethi on Saturday, Priyanka appeared to ask people not to vote for the BJP leader, who is contesting from the adjacent Sultanpur Lok Sabha seat in UP. Varun is a sitting MP from Pilbhit.
"He (Varun Gandhi) is definitely from my family, he is my brother. But he has gone astray. When a young one in the family chooses the wrong path, then the elders show them the right path, the right way. I urge all of you to show my brother the right path," Priyanka had said in what could probably be one of the first attacks by her on her estranged cousin Varun.
"In order to move forward, he has to unite people with a good heart. I have come to ask you to vote with your heart to vote for the unity of the country, vote for Sultanpur. But also introspect what kind of elections are being held this time. Do not just think about your region but about the whole country this time. And this time vote wisely to show the right path to a young member of the family," she added.
Priyanka and her mother Congress President Sonia Gandhi had accompanied Rahul Gandhi in Amethi as he filed his nomination, seeking a third consecutive term from the Lok Sabha constituency.
BJP came to Varun's defence saying he is on the "right track".
"I believe that Varun Gandhi is on the right track, And if anyone has misled the country from the right path it is Congress. Varun is a good man and is playing a good role in the BJP," BJP President Rahnath Singh said.
Congress leader Meem Afzal said everyone will agree with what Priyanka has said. "What she has stated is correct." Also, it was earlier this month that Varun praised Rahul's work in his constituency Amethi.
Addressing a public meeting, Varun said that Sultanpur must replicate the development work done by Rahul.
However, Varun's showering of praise did not go down well with an embarassed BJP. A day after his praise of Rahul, Varun said, "It should not be seen as an endorsement of any political party or candidate."