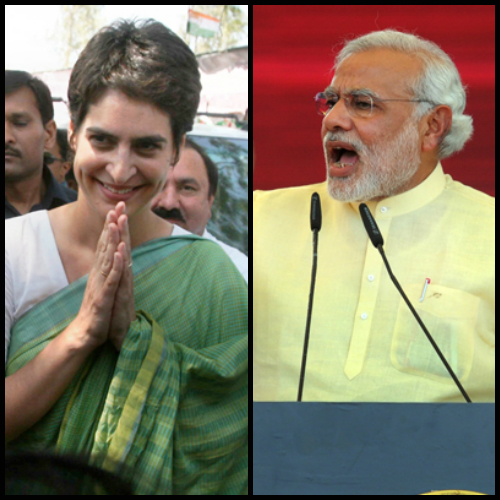 Politics, this season seems to be the most interesting topic of discussion. With the drama constantly soaring, it has undoubtedly become more interesting than a typical Bollywood film.
As elections paces towards an eventful turn, BJP and Congress, India's most prominent and vociferous parties continue to play their own games. Narendra Modi in a recent campaign, took a jibe at the Gandhi family criticising Priyanka Gandhi's husband, Robert Vadra.
Evidently hurt and miffed at Modi, Priyanka Gandhi, daughter of the famous political family, shot back at the BJP honcho saying, " ABCD, RSVP is what some parties say. They aren't addressing a primary school." Priyanka's reaction, while campaigning at Raebareli, has created quite a stir on the social media.
In trying to attack Modi, Priyanka Gandhi is behaving like a newbie Twitter account trying to troll a Twitter celeb to get some attention

— The Bad Doctor (@doctoratlarge) April 25, 2014
Bro pls. "@friendscongress: #PriyankaGandhi: Do we need a Gujarat model where acres of land is given to someone cheaply?"

— Ashish Shakya (@stupidusmaximus) April 25, 2014
Frankly I find Priyanka Gandhi's pitch today totally out of place. If your family rules the country; questions will be raised against them.

— bhupendra chaubey (@bhupendrachaube) April 22, 2014
Priyanka Gandhi Vadra also quotes a Gabriel Garcia Marquez letter to the waiting crowds in Rae Bareli.. says it gave her courage #seriously

— Gargi Rawat (@GargiRawat) April 22, 2014
Priyanka Gandhi calling BJP a one-man-show thanks to Modi. This has to be the most hilarious statement in Indian politics :-)

— Nakul Shenoy (@nakulshenoy) April 16, 2014
After all who the hell is Modi? Just someone who has run a state for 14 yrs. While Priyanka took birth in the Nehru family. No comparison

— The Bad Doctor (@doctoratlarge) April 25, 2014
Pati-vrata priyanka #jijaji ko defend kar rahi hain. Better divorce him you won't have to say so many lies in defence #vadramodel

— vikas (@Vikasm21) April 25, 2014
I don't like NaMo Model...... I like Vadra Model .... Just a Measuring Tape in ur hand and ur a Billionaire ! #VadraModel

— Atheist ❤ Krishna (@Atheist_Krishna) April 25, 2014
Hilarious banner held by those protesting against Sonia , Robert Vadra & Priyanka Gandhi in Rae Bareli pic.twitter.com/lK7eTZXTnE

— Rishi Bagree (@rishibagree) April 22, 2014
Priyanka Gandhi hits back at BJP's PM candidate Narendra Modi in Rae Bareli, rakes up ABCD and RSVP jibes #PriyankaVsBJP

— Preethi Venugopal (@preethi_vgopal) April 25, 2014
@narendramodi [I think Modi & Priyanka falling in love with each other, would they tie a knot in ... http://t.co/LoN9SdCmiL

— Haris Mirza (@Mirza_pk) April 25, 2014
Media *tries* to make it a Priyanka vs Modi fight..Not even in same league!What has the lady ever done 4anyone outside of the Gandhi family?

— Ramya (@rumskmurthy) April 25, 2014
How can it be priyanka vs Modi? Priyanka is at best a social butterfly ... who surfaces in 5 yrs...Modi ji is hard working CM -24 hrs

— मास्टरनी... (@anitasangwan) April 22, 2014
@kishalay its abt TRPs,aftr overdose of Kejri/Modi,Priyanka adds some newness.Abt dynasty other than unmarried netas all follow dynastic pol

— prerna (@prernao2) April 23, 2014
What is the comparison of Modi & Priyanka? She can't name any 15 Chief Ministers of states of Bharat. Forget anything else.

— Mukul Mishra (@MukulKMishra) September 6, 2013
Like Modi Priyanka should also kidnap her Husband.

— Hitesh Jain (@hitesh_jain90) April 23, 2014
Priyanka modi taught us abcd but congress taught us adarsh scam,2g,3g,amd many more..@Swamy39 @narendramodi @DesiNewsyTweets

— Jayachandran Parthas (@r00ckytherocker) April 25, 2014
Priyanka : Modi gave land to 'friends' at throwaway rates. Robert: what is wrong in that?

— Oh Teri (@Ohh_teri) April 25, 2014