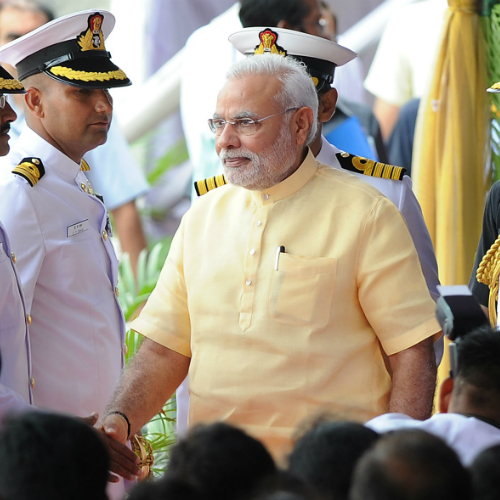 Prime Minister Narendra Modi was in Mumbai to induct India's largest indigenously-built warship INS Kolkata into the Navy.
Modi along with Defence Minister Arun Jaitley And Navy Chief Robin Dhowan addressed Navy officers at the Naval dock.
The 6,800-tonne warship has been constructed by the Mazagon Dockyards Limited and has been designed by Navy's design bureau. It has close-in weapon systems and chaffes to provide protection along with its two main guns.
INS Kolkata will be a part of the Kolkata Class destroyers of the Indian Navy which will include follow-on ships by the name of INS Kochin and INS Chennai respectively.
The keel of the warship was laid down in September 2003 and the ship was launched in 2006.
Mumbai : PM Modi, CM Prithviraj Chavan,Arun Jaitley and Governor K. Sankaranarayanan at the Naval Dockyard pic.twitter.com/t6oMNM0dJC

— ANI (@ANI_news) August 16, 2014
Watch his speech here:
Narendra Modi: We import everything now. But we will now research and invent. And what we import today to protect and keep us safe, there will come a time when we shall export the same technology. That will be the aim of this government.
Modi said the government was committed to modernising the defence forces so "our jawans don't feel they are lagging behind in defending our nation. When I dedicate INS Kolkata to the nation, I am confident it will boost our military prowess and give confidence to our soldiers." Read more.
When I speak about the Navy from Maharashtra it is all but natural to remember Chhatrapati Shivaji- PM Modi

— ANI (@ANI_news) August 16, 2014
Chhatrapati Shivaji understood well the significance of securing the seas for increasing trade- PM Modi

— ANI (@ANI_news) August 16, 2014
This government, the people of the country stands with its defence forces shoulder to shoulder and we shall keep our head held high.
We are now capable of holding our own in maritime warfare. I congratulate the Indian Navy and the technicians and engineers who built this INS Kolkata.
Entire nation may not be in uniform but we stand firmly behind you(Armed Forces) & are proud of you-PM Modi pic.twitter.com/HSZKxPmibd

— ANI (@ANI_news) August 16, 2014
10:29 IST Saturday, 16 August 2014
Prime Minister Narendra Modi addresses the gathering. He says that the military protects India's independence. He cites the commissioning of INS Kolkata as proving India's indegenous capabilities to the world.
Fighting and winning wars is easy. But there is a guarantee that there will be no war when your defence is strong. The world will respect India's superiority and ability. No country will dare challenge India now.
Defence Minister Arun Jaitley addresses the gathering and calls the event a historic day in the history of the nation. Jaitley says the commissioning of INS Kolkata gives impetus to the Navy.
10:05 IST Saturday, 16 August 2014
Navy Chief Robin Dhowan addresses the gathering calling the occasion a big day for Navy.