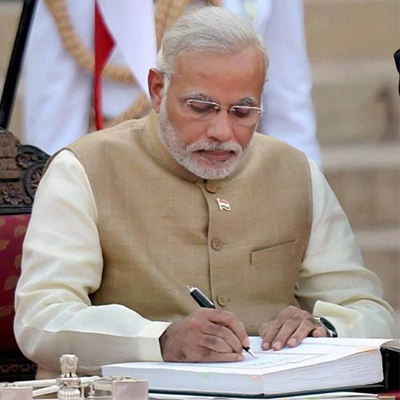 Narendra Modi is the 'centre' of all attention after becoming India's Prime Minister. If his charisma and vision led to the Bharatiya Janata Party's historic win in the Lok Sabha elections, he has proven to be equally influential in the fashion world. He has not only brought in a new political wave, but also a fashion tsunami.
In the highly dynamic fashion world, where style statements change with the seasons, Modi's wardrobe is simple yet classic. There is nothing literally exceptional in Modi's fashion choices yet his style quotient is swaying the masses. Modi who loves to wear khadi, khadi silk and linen fabrics has had the penchant for luxury brands and amongst these is his the premium luxury brand Montblanc.
His Prime Minister post was inducted with a lavish star studded ceremony on May 26. It witnessed the presence of international dignitaries like Pakistan Prime Minister Nawaz Sharif, Afghan President Hamid Karzai, and Sri Lankan President Mahinda Rajapaksa. Several Bollywood actors were also present at the function: Hema Malini, Shatrughan Sinha and Vinod Khanna contested the recently concluded Lok Sabha elections on a BJP ticket, other celebrities like Salman Khan, his father Salim Khan, Anupam Kher and Madhur Bhandarkar also attended the ceremony.
He left no stone unturned in making this historic moment extravagant. He had exclusive and elite designers bidding to design his outfit for the grand ceremony. Such that he even signed his registrar with a 'Mont Blanc'. Who knew that an ordinary tea seller would end up being a style icon and the ambassador of many brands.