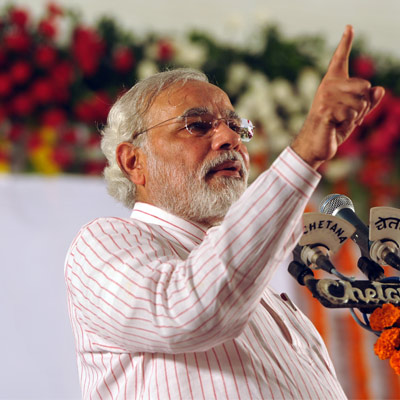 Bharatiya Janata Party (BJP) president, Rajnath Singh on Tuesday said that Prime Minister-designate Narendra Modi will take oath of office on May 26th .
Rajnath Singh said: "The swearing-in ceremony has been fixed on May 26th ."
Rajnath Singh along with top BJP and NDA leaders met President Pranab Mukherjee to submit a copy of their resolution on officially electing Narendra Modi as the BJP's parliamentary party leader and as Prime Minister.
"In the BJP parliamentary party meet, an unanimous resolution was taken to elect Narendra Modi as prime ministerial candidate, where NDA leaders were also present and a copy has been given to the President and have requested the President to invite him (Modi) to take oath as prime minister," Rajnath said outside the forecourts of Rashtrapati Bhawan.
Earlier, Prime Minister-designate Narendra Modi was unanimously elected leader of the Bharatiya Janata Party Parliamentary Party on Tuesday, setting the stage for him to stake a claim to form the next government at the Centre.
Senior BJP leader L.K. Advani was the first to propose the name of Modi as the leader of the BJP parliamentary party.
The proposal was seconded by M.Venkaiah Naidu and a series of BJP leaders, including M.M. Joshi, Sushma Swaraj, Arun Jaitley, Nitin Gadkari and Gopinath Munde.