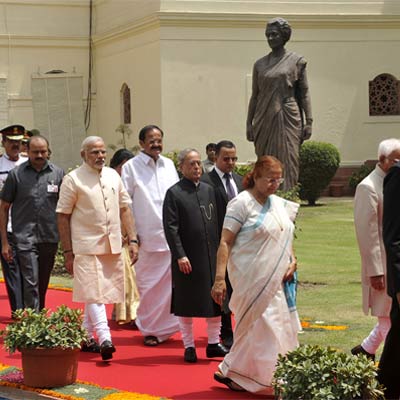 For a change the President was economical with words in his address to the joint session of Parliament. But this did not take him away from amply mirroring the wish list of the Modi government. Perhaps brevity is the new order even as the speech had several firsts to its credit.
President Pranab Mukherjee today kept it short and precise. His speech today was made up of 4703 words. However, his predecessors, Pratibha Patil (2009) and A.P.J. Abdul Kalam (2004) delivered a speech that had 5247 and 5456 words respectively. The brevity was achieved given that the speech highlighted common issues of concern between the previous and the new government. But, as is the tradition, the speech did not shy away from being critical of the previous government.
First the brickbats: "In the recent past serious concerns have been expressed regarding use of discretionary powers in allocation of our precious natural resources." He also cited the instance of the country having witnessed some gruesome incidents of violence against women. Mukherjee thus emulated his predecessors. In 2004 in his address, President Kalam had said, "My government is concerned about the misuse of POTA in the recent past."
The continuity in key focus of the government came about on issues like black money and women safety. For example three Presidential addresses -2004, 2009, 2014- all talked about black money stashed outside. The common thread has also been witnessed on issues like relationship with SAARC countries, women reservation and skill development for demographic dividend and launch of minority development programmes.
In 2004 president Kalam had said on black money, "The root causes of corruption and the generation of black money will be effectively tackled. For this purpose, procedures will be streamlined and processes will be appropriately re-engineered to bring in transparency in governance."
Similarly in 2009, the then President Patil had said, "My Government is fully seized of the issue of illegal money of Indian citizens outside the country in secret bank accounts. It will vigorously pursue all necessary steps in coordination with the countries concerned."
And today, President Mukherjee said, "My government is determined to rid the country of the scourge of corruption and the menace of black money." But unlike past this time the address did not merit any specific mention of Pakistan.
President Mukherjee also assured in his speech that the government will take all necessary steps to ensure a perennial, clean and pristine Ganga. In 2009, the then President Pratibha Patil also spell out a plan for cleaning Ganga. She had said, "A voluntary national youth corps which could take up creative social action around the river cleaning and beautification programme beginning with the river Ganga". There were many new things added to President's address. Outlining government's priorities, he spoke about issues like returning of exiled Kashmiri Pandits to their homeland, use of social media for participatory governance, diamond quadrilateral project of high-speed trains, low cost airports to promote air connectivity, 100 new cities focused on specialized domains and equipped with world class amenities et al.
The presidential address is prepared with the collective effort by different ministries, as the prime minister's office (PMO) requests all secretaries to suggest matters with respect to their departments. The address to the joint session of parliament is done under the provision of Article 87 (1) after members take oath.