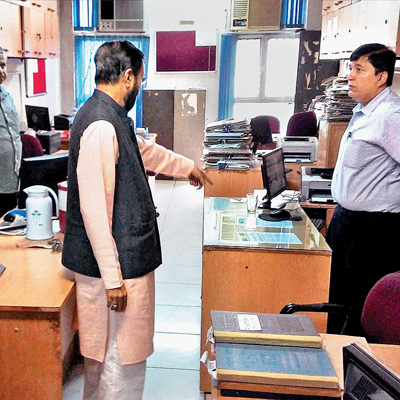 Officials at the information and broadcasting ministry were in for a rude shock on Monday morning when minister Prakash Javadekar was seen waiting for them in the office corridor. The minister arrived at his Shastri Bhawan office at 9am, and instead of moving to his chamber, barged into the rooms of officers. Many were just about arriving, whom the minister received and mockingly guided to their chairs. He ordered all those who did not arrive in office by 9.15am to take a day's casual leave as mild punishment. Javadekar left strict instruction that the staff must maintain the decorum of the office and be in time, an I&B ministry press release said.
The late-comers then lined up outside his office. Around 40 people fell into this slacker's category.
Prime Minister Narendra Modi has asked his administration to prioritise efficiency by reducing delays and cutting red tape. It is an attempt to pull up government employees, who are known for working at a snail's pace making it near-impossible to get work done at government offices. The new government has ordered bureaucrats to focus on the swift disposal of files; civil servants have been warned they will be held responsible and penalised for delays in decision-making.
Earlier, PM Modi had himself inspected the chambers of his officers in the PMO early one morning to ensure that officials are present in office by 8:45am. This was followed by the urban development minister M. Venkiah Naidu inspecting his ministry at Nirman Bhawan. He had let off late-comers with a warning.