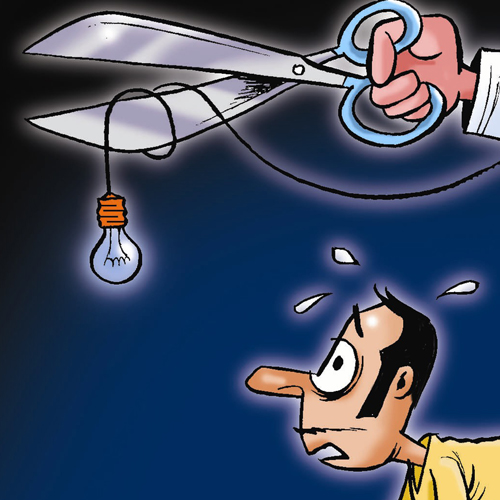 Power paucity resulting in power cuts upto five hours a day in various parts of the capital has made the lives of the Delhiites extremely tough. With temperature running riot, air-conditions and coolers are the only salvation, but failure in meeting the power demand with adequate supply, authorities have invited wrath of both people and media.
Presently, Delhi has multiple problems, one that it doesn't have adequate power to supply and second that in May 30th storm, more than 10 towers and lines in different parts of the capital got damaged, leaving the discoms with limited infrastructure to supply power with. "On June 7th, we had the highest ever consumption of 109.206 million units. The total demand of Delhi is around 5600 MW and the discoms could only manage to provide 5152 MW leaving a void of 800 MW. This gap compels us to shed load," said a Delhi Transco Limited (DTL) official.
After AAP leader Arvind Kejriwal on Saturday lambasted the Delhi government being run from the governor's house for not providing enough power, Lieutenant Governor, Najib Jung today held a meeting with top power officials of Delhi.
"LG has decided to take effective measures to ensure that adequate power can be supplied to the people. No power will be given to malls after 10 pm. Delhi government offices, universities and other government offices have been told to put off air-conditions between 3:30 to 4:30 pm. High mast halogen lamps in the streets, which consume more power, will be switched off during night peak hours to conserve energy," said the official.
In Delhi, NDPL owned by Tata and BSES owner by Reliance are the two main agencies supplying power with the help of infrastructure developed and provided by DTL.
But the lines and towers got damaged in the storm haven't been restored yet leaving these agencies helpless because without lines and towers, power can't be supplied, even if the discoms have enough power.
"Three main 220 KV transmission lines of DTL got damaged due to the devastating thunderstorm. The 220 KV, Mandodla–Gopalpur and Bamnauli–Pappankalan-I lines have been restored through the Emergency Restoration System (ERS). Temporary restoration of 220 kV Bawana–Rohini-I line has successfully been done by providing off to Rohini-II Grid," said the DTL official in reply to the steps taken by DTL after storm.
Power supply companies, however, blamed DTL for not providing enough infrastructure to supply power. "Delhi has enough power to meet the rising demand, but DTL has failed to restore the infrastructure destroyed in the storm. They have an Emergency Restoration System (ERS) in place by which they diverted the load of the broken lines. But due to storms too many lines have got damaged including some of the crucial sub-stations leaving the discoms as well as DTL helpless," said official of a power supply company on the condition of anonymity. 3 to 5pm and then again from 10pm to 1 am during night are the peak load hours in the city.
The Lieutenant Governor has appealed to the citizens to come forward and help conserve energy by running their air-conditioners at 25 degree centigrade or above and take all measures at home and offices to conserve electricity.
He also said that the Delhi government is getting full cooperation and help from the Central government. The latter has also assured that overdue systemic issues involving Delhi will be addressed at the earliest.
Following measures will be adopted with immediate effect:
1. Whenever there is less supply of power, the power distribution companies will announce a schedule informing people about the timings when electric supply will be cut. Discoms are working out a schedule which will be shared with the public.
2. Power supply to Malls will not be available after 10 PM.
3. High mast halogen lamps in the streets, which consume more power, will be switched off during night peak hours to conserve energy.
4. Government Establishments, including Delhi Secretariat and other government offices, universities, colleges have been advised to switch off air conditioning between 3.30 to 4.30 PM to conserve power during day peak hours. This does not include emergency services and critical institutions such as hospitals etc.
5. The Discoms will strengthen their call centres by increasing the number of lines and deploying additional staff so that there is better communication with the public.