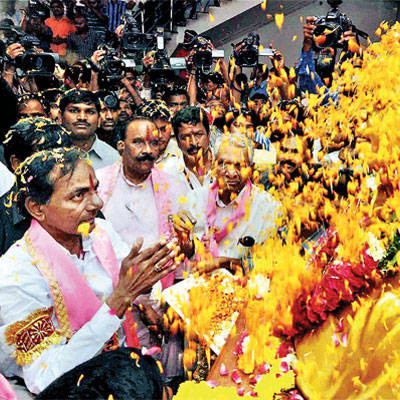 K Chandrasekhar Rao of Telangana Rashtra Samithi spoke like a true politician who was not interested in personal gains. While talking to dna earlier this week he said he was interested only in Telangana and he was not eyeing for the chief minister's chair. And to prove his sincerity, he said that the moment Telangana was formed he would merge TRS with the Congress and he would not lay claim to the CM's post.
Telangana has been formed in the teeth of opposition from Congress Seeamandhra MPs in the parliament. Rao was expected to merge his party with the Congress. All that the TRS supremo did was to call on Congress president Sonia Gandhi accompanied by his wife, sons and daughters, and grandchildren and posed for a portrait with Gandhi at 10, Janpath which would go into the family album. It was a thank you call on Congress president. He had also met Congress vice-president Rahul Gandhi and prime minister Manmohan Singh to thank them for Telangana. Earlier, he called on president Pranab Mukherjee too. And intriguingly enough, he also called on BJP president Rajnath Singh.
Rao's son KT Rama Rao told dna that his father would not be talking to the media and that political options were being explored. It was clear that the merger with Congress is not going to be inevitable. It is learnt that Rao had told Congress leaders that the merger is not good either for Congress or TRS because it would create an opposition space for TDP.
Meanwhile, in Hyderabad the TRS rank and file feel that this was not the time for 'merger' with Congress. KT Rama Raot weeted on Wednesday night that the people and party supporters were opposed to merger. I had walked all along from Begumpet to Gun Park. Unbelievable emotion & one piece of advise from all: Don't merge in Congress. Point noted," he tweeted.
KCR himself is very firm on the issue. "I can not let down Sonia Gandhi or my own people. But all we are trying to impress on the Congress high command that merger could take lot of time. Particularly after the successful achievement of Telangana and every one wants us to taste the fruits of success and not hand it over to Congress," he said in a conversation with his leaders.
According to a senior TRS leader, a resolution may be passed in the March 1st politburo meeting of TRS to thank Sonia Gandhi for her support and that merger talks could be taken up after formation of the Telangana state.
Ahead of the politburo meeting, KCR has invited his close aides and senior leaders to his farm house about 27 kms away from Hyderabad to chalk out a strategy on the merger issue. He is making it clear to the partymen and also Congress leaders that he is under tremendous pressures to "merge and also not merge".
Congress state leaders like V Hanumanth Rao, MP and Jana Reddy are demanding KCR to expedite the merger.
KCR himself is in two minds. During his last meeting with Sonia Gandhi the merger issue had come up. "We will wait your decision and would respect it," she had reportedly said.