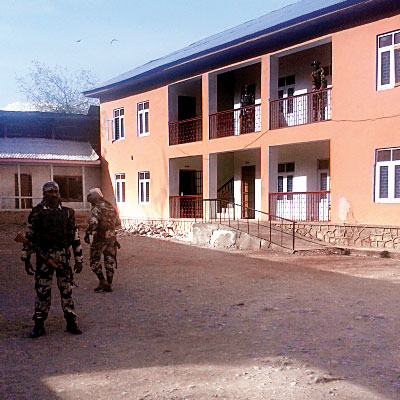 A road crisscrossing through the golden mustard fields lies deserted. A shamiana outside the house of the slain sarpanch Ghulam Nabi Mir is still echoing with the cries of women mourners.
Barely 100 meters away in a government high school, a huge contingent of police and paramilitary forces in full battle-gear have taken positions on vintage points to guard the empty polling booths.
Inside a dimly lit polling booth 24-B Batagund, the presiding officer Bilal Ahmad Nengro was giving final touches to the paper work. Since morning, Nengro and his staff have been waiting for voters to walk in and vote. The only visitors he entertained were the media persons.
"I was mentally prepared for the job. There was some stone pelting in the morning. It lasted for 20 minutes. This polling booth has 682 votes but no one has come to cast the vote till 4.30 pm," said Nengro.
Welcome to Kashmir's Kandahar, the new terror heartland of Jammu and Kashmir. Militancy is the order of the day and people's hisses and murmurs just tell the story of the palpable fear enveloping the area.
"This area is called Kandahar given the militancy in this part of the Valley. Who will vote in this situation? There is paradigm shift from the last assembly polls when people had voted in this area," said Mushtaq Ahmad, a college student here.
The assassination of three people including sarpanch Ghulam Nabi Mir and his son on Monday had a cascading effect on the voters in entire Pulwama district, particularly Batgund and Tral areas.
In the two polling booths of Batgund, only one of 1,411 electors mustered courage to vote. Interestingly he too was local Congress worker has security. No civilian could go even near to the polling booth nor talk of venturing inside it. The polling staff, which was brought to the school on Wednesday evening did not sleep for the night due to the lurking fear. "It was like a Shab-e-Qadar (a night in holy fasting month of Ramzan when Muslims had to pray all along) for us. We were awake for full night," said Ali Mohammad, presiding officer of polling booth 23 (A) Batagund.
Eleven kilometres down on the Srinagar-National highway in the Awantipora town, there were a few electors who had mustered the courage to vote. In 72 Town Hall Awantipora, 42 voters out of 872 had cast their ballots by 5.15 pm. In the neighbouring 71 Awantipora, 135 people of the 672 voters cast their ballots till 5.30 pm. Pulwama district of south Kashmir recorded the lowest polling of 6.32% given the boycott call by militants and separatists. The district is a part of Anantnag parliamentary constituency which recorded 28% of turnout.
"The young blood of Kashmir is filled with passion, enthusiasm and resistance which indicates that India have a few days left in Kashmir and nows", aid Syed Ali Shah Geelani, Hurriyat hawk, while congratulating the people for the poll boycott.
Peoples Democratic Party president, Mehbooba Mufti, who is contesting from Anantnag, however thanked the people of Anantanag, Pulwama, Shopian and Kulgam districts for having come out to vote in spite of heavy odds. "The trust reposed by the people in the system in most of the areas is encouraging and it would certainly help in carrying forward PDP's efforts to find a solution to our problems of political and developmental in nature", she said.
Meanwhile, militants attacked a poll party killing one member and injuring five others including three security personnel at Nagbal in Shopian district of south Kashmir. The incident occurred when polling staff was returning after discharging their poll duty. Militants lurking near Nagbal attacked their vehicle leaving one staffer dead and injuring five others.