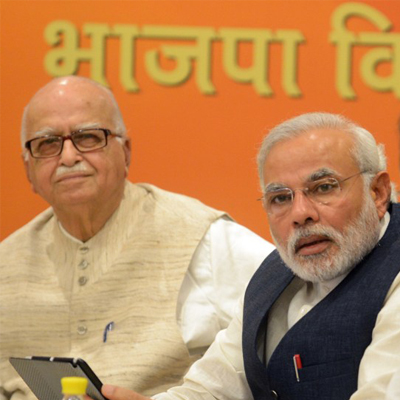 Buoyed by the high turnout of voters, BJP's prime ministerial candidate Narendra Modi said on Friday, it appeared that NDA was on its way to form government at the Centre and asked people to ensure 300 seats for it in Lok Sabha. "Polls held so far in different states suggest that an NDA government is going to be formed in Delhi (Centre)," he said at an election meeting here in support of party nominee Devendra Singh Bhole.
Modi appealed to people to vote in large numbers so that at least 300 BJP candidates emerged victorious in the current Lok Sabha elections. He lambasted the Congress-led government on issues of corruption and unemployment and said the enthusiasm among voters during the polls held so far suggest that the UPA has lost the battle. He said it was time to get rid of "the remote-controlled and bed-ridden government" at the Centre.
Modi, who touched the feet of senior BJP leader Murli Manohar Joshi before starting his speech, said Congress never fulfilled its promise to create employment and eradicate poverty. He also made a veiled attack on Union Coal Minister Sriprakash Jaiswal, who is Congress candidate from Kanpur, in the wake of coal block allocation scam.