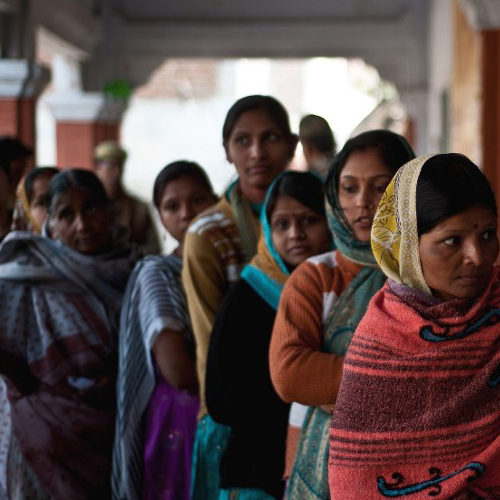 Sixty-four Lok Sabha constituencies spread over seven states and 175 assembly constituencies in the Seemandhra region went to polls early on Wednesday morning amid tight security. (Live Updates)
May 7, Wednesday, is the eighth and penultimate phase of the Lok Sabha elections. The Lok Sabha constituencies going to polls are 25 in Andhra Pradesh, 15 in Uttar Pradesh, seven in Bihar, six in West Bengal, five in Uttarakhand, four in Himachal Pradesh and two in Jammu and Kashmir.
Prominent candidates in the fray are Congress Party vice president Rahul Gandhi, Union Steel Minister Beni Prasad Verma, Union HRD Minister M.M. Pallam Raju, ex-Indian cricketer Mohammad Kaif and television actress Smriti Irani.
Varun Gandhi, Rajiv Pratap Rudy, Anurag Thakur, Ram Vilas Paswan, Rabri Devi and Kumar Vishwas are the other prominent leaders whose political future will be decided on Wednesday.
The Election Commission has reportedly taken several steps to ensure free and fair polling during the last two phases of the general elections.
These measures include deploying poll tracking teams and activating quick response systems. Presiding officers have been asked to use their powers under electoral laws to use deployed central forces to prevent any untoward incident at all polling stations.
Sector magistrates for ten polling stations each have also been deployed. Static magistrates have also been stationed at sensitive polling booths to respond to complaints promptly.
Meanwhile, according to an official report, over 800 kilograms of explosives and 130 improvised bombs have been retrieved by security forces from Naxal areas since the announcement of Lok Sabha polls on March 5.
Bihar, Jharkhand, Chhattisgarh, Maharashtra and Odisha are the main areas from where these explosives have been retrieved by the paramilitary Central Reserve Police Force (CRPF).
A maximum of 61 improvised explosive devices were recovered from Bihar, 34 from Jharkhand, 26 from Chhattisgarh and nine from Odisha till April 30. The total number of these locally-made IEDs stood at 130.