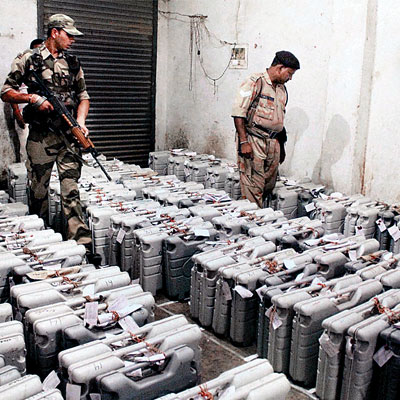 Even as the exit polls have given some political parties a reason to celebrate in anticipation and some to fume, the nation awaits eagerly for the D-day on May 16 when the actual results will be announced by the Election Commission.
After nearly 56 crore electors cast their ballot, the Election Commission is now busy making massive preparations for smooth counting of votes that will begin at 8 o'clock sharp on May 16 simultaneously at respective district headquarters throughout the country.
The sealed EVMs that are presently locked in the strong rooms under CCTV surveillance and round the clock security provided by the central paramilitary forces will be brought at counting halls of district headquarters under security protection on the morning of May 16.
They will be opened in the presence of observers, counting staff provided by the Election Commission and the polling agents of different political parties.
Besides the Returning Officer, usually the District Magistrate, each district headquarters is expected to have four senior observers and a huge number of micro observers and other counting staff.
One EVM shall be placed on each table with three officials under the EC – a micro observer, counting assistant and counting supervisor.
The EC has allowed presence of one polling agent on behalf of the candidate or the candidate himself or herself from each political party to be present in the hall but they won't be allowed to crowd the table where EVM is placed and would be shown the result from a distance.
Mobile phones and fire arms have been banned inside the counting centres to check any speculation of result that shall be declared only after obtaining permission from the Election Commission.
To keep the counting hassle-free the EC has given instructions not to allow any person having security cover provided by the centre or the state to be appointed as the polling agent.
However, the Commission announced one exception to this rule, apparently on request by the Congress party, by allowing contesting candidate having SPG protection to be permitted entry inside the counting hall accompanied with one SPG personnel in plain clothes and one concealed arm.
The exception to the rule made at the last hour says a lot about the apprehensions of Gandhi family that is, perhaps, battle for their political survival.
As counting on EVMs is done briskly, major trends will be clear by 2 o'clock in the afternoon on May 16 making.