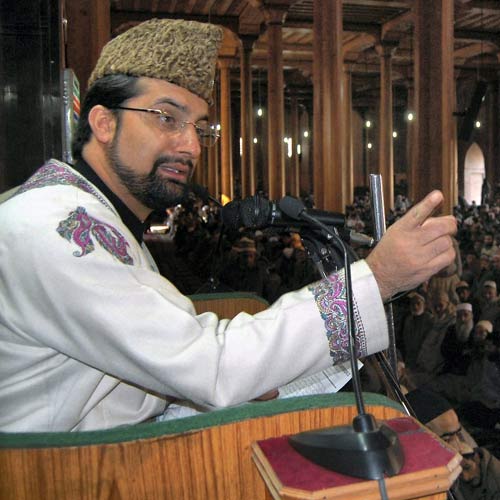 The moderate faction of the Hurriyat Conference on Monday welcomed the resumption of dialogue between India and Pakistan and said both the countries should show political will in finding a solution to Kashmir issue.
"India and Pakistan are having a composite dialogue on August 25. The Hurriyat Conference welcomes it.
"But, we want to remind them that Kashmir is an important part of the composite dialogue process. When there is a forward movement on Kashmir, all other issues will follow," said Mirwaiz Umer Farooq, chairman of the moderate Hurriyat.
Foreign Secretaries of both the countries will meet in Islamabad on August 25 to restart the dialogue process stalled in 2008 in the wake of Mumbai terror strikes. The Mirwaiz said the meeting of the Foreign Secretaries should not become a ritual and both the nations should exhibit political will in finding a solution to the problem.
"Both the nations should take steps to address Kashmir issue on priority. Military approach will not work. The role of the military is over. It is a political issue and beseeches a political solution," he said.
Mainstream parties are playing "religious and regional cards" to divide the state and the people, Mirwaiz told a seminar in Srinagar.
"Kounsar Nag yatra was made an issue. The reality is that some Kashmiri Pandits used to go there, but at the individual level. Kashmiri Pandits have every right to go wherever they want as they are a part of us.
"But, we appeal to them that they should not let themselves be used by the forces who want to destroy the secular fabric," he said. The Hurriyat dove said Pandits are welcome to return to the valley.
He, however, added some elements are "promoting disintegration" in the name of their rehabilitation.