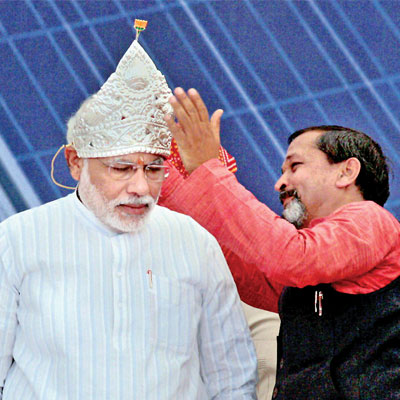 With each passing day, political discourse is slipping to a new low. This time it was none other than foreign minister Salman Khurshid who sparked off a storm by using the word "napunsak" (impotent) for BJP's prime ministerial candidate Narendra Modi.
An infuriated BJP retaliated dubbing it as a reflection of Congress's "frustration" and asked Sonia Gandhi if she approved of such comments.
"I want to ask him this question that you claim to be such a strong and powerful man and wish to be the PM, and you could not protect the people of Godhra. Some people came, attacked and went, and you could not protect. Are you not a strong man?..Our allegation is not that you get people killed...but that you are napunsak (impotent)," Khurshid had said without naming Modi on Tuesday while addressing a rally in Farrukhabad.
A day later, he stuck to his comment. "What does impotent mean to you? Was I talking about his sexual prowess, I was not, I am not interested in it," he told a news channel.
He said the word "napunsak" was used to describe somebody who lacked capacity.
BJP spokespersons condemned his language and recalled the "outcome" of the "maut ka saudagar (messenger of death)" mde by Sonia Gandhi to describe Modi.
"Such language goes against the norms of Indian culture.... He is tainting the image of his own party," said BJP leader Shahnawaz Hussain.
As the political sparring started to reach a crescendo with elections less than three months away, Congress vice- president Rahul Gandhi said speaking with "hatred" could backfire.
"When politicians speak with hatred, it is going to harm you," Gandhi said in an interaction at a school in Guwahati.
Earlier, Gandhi had asked his party to refrain from personal attacks after Congress leader Mani Shankar Aiyar's chaiwallah jibe at Modi. "There is no way he can be prime minister in the 21st century... but if he wants to come and distribute tea here we can make some room for him," he had said.
But, the message had apparently not sunk in. "The minister's language has neither dignity nor decency. He has studied abroad.... Whether it is Sonia Gandhi, Mani Shankar or anyone else, when Congress leaders make such allegations people will teach them lessons," said Hussain.
"It is regrettable and shameful, that too from the foreign minister of India. Khurshid must apologise for the kind of language he used," said BJP leader Ravi Shankar Prasad.