AAP leaders Ilmi, Ashutosh detained, questioned for instigating violence outside BJP HQ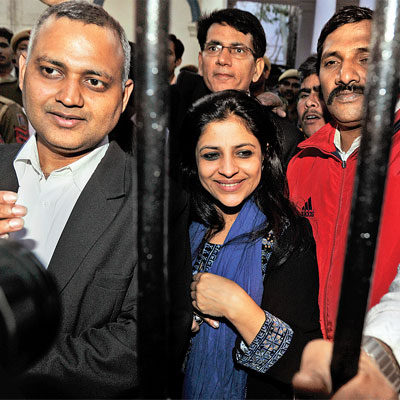 Delhi Police on Thursday detained AAP leaders Ashutosh and Shazia Ilmi on charges of rioting, unlawful assembly, assault on public servant and damage to property.
The duo on Wednesday had led a crowd of AAP workers to BJP headquarters and allegedly gone riotous.
Police questioned them extensively but is unlikely to arrest them as it has not yet examined the video footage of the incident.
"We are going through the video footages. We will detain or arrest others once we have enough proof against them," said SBS Tyagi, deputy commissioner of police, New Delhi district.
Police sources claimed Shazia Ilmi was apologetic for the incident. She also said her presence at the protest was not intended and she joined party workers while going for a television programme.
Somnath Bharti, a former minister in AAP-led government, denied her being apologetic. "Our party does not believe in violence and what she meant was that such violence should not have taken place," said Bharti coming out of the room where Shazia Ilmi was being interrogated.
Delhi Police has slapped case against 16 people out of whom 14 got bail from Patiala House court today. It has also submitted a factual report of the incident to the Delhi Election Commission.
According to police sources, the report has details of violence and AAP has been held responsible for it. "It is a factual report. We only gave information about who created ruckus at BJP headquarters. We have also written how AAP workers tried to damage BJP's office," said a source.
Meanwhile, Both BJP and AAP also have shot off a letters to the Election Commission of India complaining against each other.
BJP petitioned the Election Commission to lodge a complaint against the AAP. The party has alleged that AAP was hand in glove with Congress and that its game plan was to divert from various scams of the government. "AAP is the latest goon squad hired by the Congress," said BJP spokesperson Meenakshi Lekhi.
AAP in its complaint alleged that BJP workers attacked AAP's supporters and volunteers in Delhi and Lucknow. AAP demanded an independent inquiry from EC and asked them to take strict and prompt action to ensure that violence by BJP is not repeated.
Admitting that some AAP volunteers turned violent, AAP, however, alleged that violence in Delhi and Lucknow was "initiated" by BJP workers as they wanted to intimidate AAP. They alleged that while BJP workers were beating AAP volunteers in Lucknow, the local police just stood and watched rather than doing anything to stop them.
Apart from Bharti, Prashnat Bushan, another AAP leader and eminent lawyer also visited Parliament Street Police station.