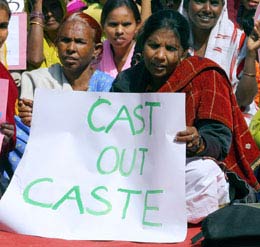 Police have initiated a probe after media reports emerged that Dalits were being allegedly ostracised in Sitapaat village near Mhow, the birth place of the architect of Indian Constitution BR Ambedkar.
"We have taken cognisance of a report published in a local daily about ostracism of Dalits in Sitapaat. We are probing the matter," Deputy Superintendent of Police, SC/ST Police Station, Ashutosh Mishra, told reporters on Monday.
However, so far police have not found proof that people from SC community living in the village are being subjected to any kind of social boycott, which is a crime. We have, therefore, not filed a case in this regard, he said.
A few days back, a dispute over a desire of Dalits to pour water over a 'shivling' in a temple was reported from the village but there is no tension in Sitapaat on the issue, Mishra said.