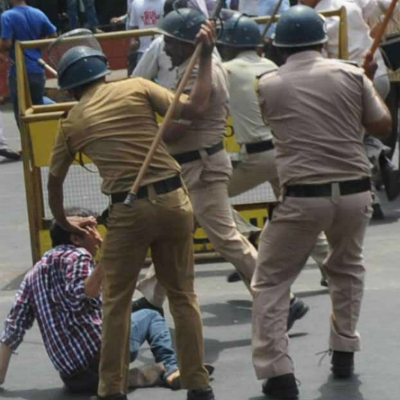 Police officials in Punjab baton charged members of Elementary Teachers Training (ETT) demanding to bring district schools under the education department.
As many as a dozen agitating members of ETT were injured on Sunday after police baton charged them.
The teachers were attempting to break the barricades to march towards the residence of cabinet minister, Bikram Singh Majithia, demanding the bringing of district schools under the education department.
Additional Commissioner of Police, Balkar Singh, informed that police had to take action since teachers were trying to cross the barricades and few were injured as well.
"ETT were protesting here, they were trying to remove and cross the barricade and tried to cause harm to the people around. This is why we had to take charge of the situation," said Singh.
The teachers were stopped near the deputy commissioner's residence. They tried to move ahead and break barricades but police swung into action to disperse them.
Police also used water cannons to disperse the teachers.
The protesters on the other hand complained that the police had badly hurt them.
"They first beat up the farmers and now us. They have beaten us badly. Many of our brothers and sisters have been hurt during the baton charge," said a protester, Shamsher Singh.
Reportedly, the state government had recruited around 13,000 teachers and deputed them in schools run by the district council in 2006.
Since, the government has not been able to provide basic facilities to the schools, the protesters have demanded that their schools should be shifted to the education department.