In an interview to Channel4, the Man Booker winner and a political activist says rape malaise goes beyond the middle class.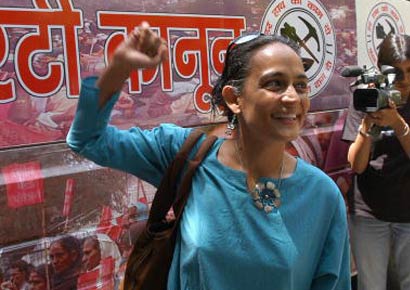 Reacting to the terrible news of the 23-year-old girl succumbing to injuries sustained while fighting off her rapists in a moving bus in the capital, Arundhati Roy warns that it is a sign of forebodings for women of all classes. About the massive outpouring of protests across the country, Roy said, "While we are seeing some very unexceptional reaction to an event which is hardly exceptional, though it's a terrible thing to call a tragic event 'exceptional'.
"However, the real problem is why is this crime creating such a lot of outrage is because it plays into the idea of the criminal poor, like the vegetable vendor, gym instructor or bus driver actually assaulting a middle class girl. Whereas when rape is used as a means of domination by upper castes, the army or the police it is not even punished," said the feted author.
When asked if there was any chance that these huge protests are going to ring in some genuine change, Roy said, "I think it will lead to some new laws perhaps, an increased surveillance, but all of that will protect middle class women. But in cases of the army and the police as perpetrators, we are not looking for laws. What do you do when the police themselves burn down villages, gang-rape women. I have personally listened to so many testimonies of women to whom this has been done."
Pointing to the contrast between the actual truth about women across the country and the image of modern India being portrayed by Bollywood and the hi-tech India, the author agreed that there are quite many a world competing here. "Feudal India has a huge history and legacy of disrespect and violence against women. Any accounts of Partition or what is done to Dalit women contains that but now there is sort of psychosis," she said.
While stating that the army and the police routinely use rape as a weapon against people in places like Chhattisgarh, Kashmir and Manipur after gaining impunity behind laws like Armed Forces Special Powers Act, Roy said, "More dangerous is the widening gap between the rich and the poor. Earlier, at least the rich did what they with a fair amount of discretion, but now it's all out there on television for conspicuous consumption and there is an anger and psychosis building up and women at the top, middle and the bottom are going to pay the price for it."