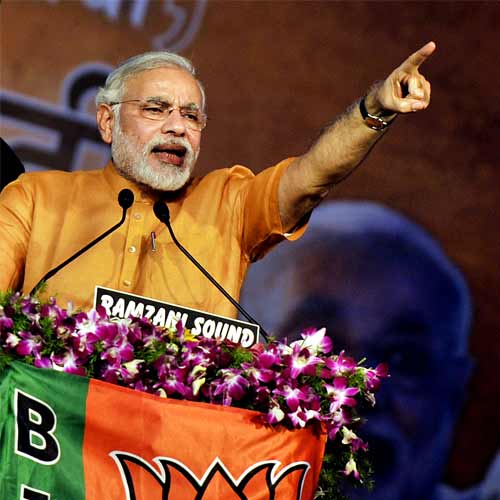 Countering Prime Minister Manmohan Singh's comment that there is no Modi wave in the country, Bharatiya Janata Party (BJP) prime ministerial candidate Narendra Modi on Wednesday said the wave will not be visible to the former as he was unaware of issues affecting the nation's citizens.
"Was price rise, unemployment, poverty and corruption visible to you in the last ten years? Farmers were committing suicides but it was not visible to you," said Modi while addressing a rally here. "So, if these were not visible to you in the last ten years, then how come this wave will be visible to you?" he asked.
Emphasizing on youth, Modi said the period between 18-28 years is a golden period in the life of a person.
"A person makes all the important decisions of his life during this period. And according to these decisions, you lead the rest of your life. And, if you make a wrong decision during this period, then it can ruin your life" he added. He reiterated the ongoing Lok Sabha elections are not being contested by just some political parties, but it is the people of this country who are fighting these elections. He also said that this election is an election of hope and trust, and urged people to give him a chance to realize their dreams.