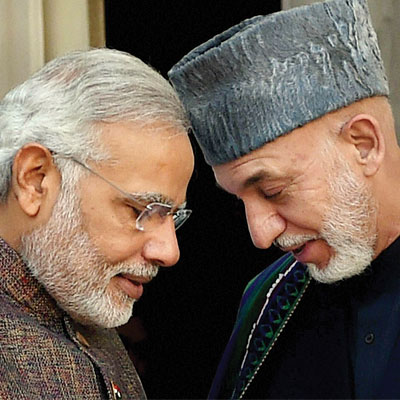 A day after assuming charge as Prime Minister, Narendra Modi on Tuesday talked tough and asked his visiting Pakistani counterpart Nawaz Sharif to initiate steps to curb terrorism, emanating from Pakistan territory.
During the 40-minute talk between the two leaders at Hyderabad House, Sharif skipped any reference to terrorism, but called for converting "confrontation into cooperation" and stressed to stay away from accusations and counter-accusations. The two agreed to call a meeting of foreign secretaries soon to review and carry forward the bilateral agenda, before committing to resuming the full-fledged composite dialogue process.
Sharif did not mention Kashmir, nor did he meet Kashmiri separatists — something that had become customary for every Pakistani dignitary visiting Delhi. The practice started by then President Farooq Ahmed Khan Leghari and Pakistan envoy Riyaz Khokhar in 1995 appeared to have been given a burial, as India had not been taking such interactions kindly.
"My meeting in Delhi should be a historic opportunity for both the countries. We cannot achieve the common goal of development without peace and stability. We will have to alter confrontation into cooperation.
We will have to overcome the legacy of mistrust and misgivings," Sharif said in a carefully-worded statement. "I am very pleased to be in New Delhi at Modi's invitation. He invited me and I felt great pleasure in responding positively. I had a constructive meeting. It was held in a warm and cordial atmosphere."
The Pakistan Prime Minister invited Modi to Islamabad, recalling a similar invitation he made to then PM Atal Behari Vajpayee to come to Lahore in February 1999.
India's foreign secretary Sujatha Singh stressed that trade with Pakistan should be resumed in order to increase bilatereal relations. "We want peaceful relations with Pakistan. But for that terror and violence should end," she said.
To a query that whether issue of Dawood Ibrahim figured in Modi-Sharif talks, Singh said, "record of discussions cannot be given … issue of terrorism was also discussed," but refused to spell out details.
Earlier in the day, Modi held back-to-back bilateral meetings with SAARC leaders and Mauritius' Prime Minister. Modi envisaged a strong and independent SAARC region in his bilateral talks and called for expanding interaction among them at various levels. The meetings gave a glimpse of Modi's style of diplomacy in handling relations with India's immediate neighbours.
In talks with the Sri Lankan President, both Modi and Mahinda Rajapaksa agreed that fishermen of both the countries carry on fishing peacefully. Modi requested Rajapaksa for equality for Tamils in Sri Lanka to strengthen bilateral relations.
In his meeting with Afghanistan President Hamid Karzai, Modi thanked him for the assistance provided by the Afghan National Security Forces in repelling the attack on India's Consulate in Herat and said that the attack "only strengthened our resolve to work together".
During his meeting with Bangladesh's Parliament speaker Dr Shirin Sharmin Chaudhury, several aspects of India-Bangladesh relationship were discussed including border management, land boundary pact and River Teesta issue.
PM urged cooperation in the oil and gas sector with the Mauritian PM. He noted that security interests of both countries were interlinked and sensitive to concerns of each other. He also said that their respective territories would not be allowed to be used for any activity inimical to the other (India's hint was towards China).