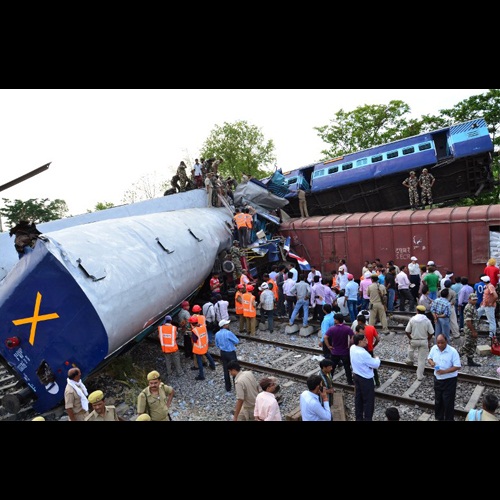 In his first decision after taking over on Tuesday, Prime Minister Narendra Modi announced a relief of Rs 2 lakh each to the kin of those killed and Rs 50,000 for those seriously injured in Monday's train accident in Uttar Pradesh.
Officials said a "signal error" caused the Delhi-Gorakhpur Gorakhdham Express to ram into a stationary goods train on the same track at Churaib station between Basti and Gorakhpur in Sant Kabir Nagar district in eastern UP at around 10am on Monday.
Modi directed the Railway Ministry to ensure that relief operations were carried out smoothly and that all those injured in the Gorakhdham Express mishap were provided the best possible medical care. Latest reports say the death toll in the train mishap has risen to 25.
The Prime Minster sanctioned an ex-gratia payment of Rs 2 lakh each to the next of kin the deceased from the Prime Minister's National Relief Fund and Rs 50,000 each for those seriously injured in the accident, a PMO statement said.
Railway Minister Sadananda Gowda has said that the safety of railways is an important issue.