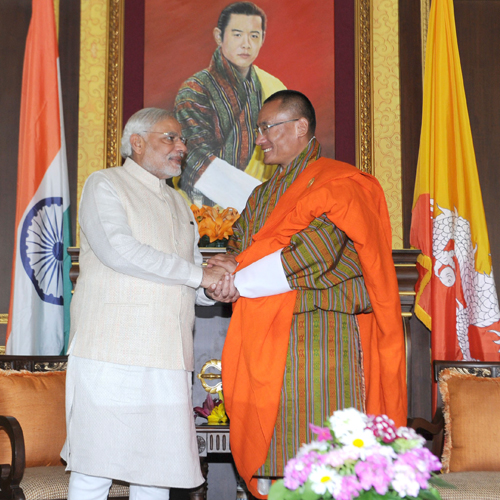 Prime Minister Narendra Modi said on Monday India is committed to good neighbourly relations and assured Bhutan that a change in government will not alter the dynamics of Indo-Bhutan ties.
The prime minister was addressing the joint session of Bhutan's Parliament in Thimphu on Monday, the second day of his two-day visit to the Himalayan nation. This is Modi's first overseas visit after becoming prime minister.
Modi began his speech by describing himself fortunate to be able to address the Parliament, and heaped praise on Bhutan for firming up democratic traditions in the country. "Its an honour to address the joint session of Bhutanese parliament," he said in his speech in Hindi.
He also lauded Bhutan for the smooth transition from monarchy to democracy in a span of seven years which showed maturity in governance in that country. "I congratulate Bhutan's political family for securing development, protection of traditions and environment. Bhutan has established democracy among its people through awareness and strong democratic traditions."
"India is committed to good relations with its neighbours," Modi said. He added that if India progresses, it will directly impact the development of its neighbours. "Stability and development in India will help neighbours like Bhutan."
Modi then turned his attention to the results of the recent Lok Sabha election. "For the first time after India's independence, voters gave the BJP a clear mandate to serve the country. This is the power of democracy," he said. "A strong and prosperous India is necessary for the neighborhood, especially SAARC nations. India and Bhutan share a cultural heritage. We are one because we have kept our hearts open to each other... Our power draws from unity."
63-year-old Modi arrived in Thimphu on Sunday on his first foreign trip after assuming office last month.
With inputs from agencies.