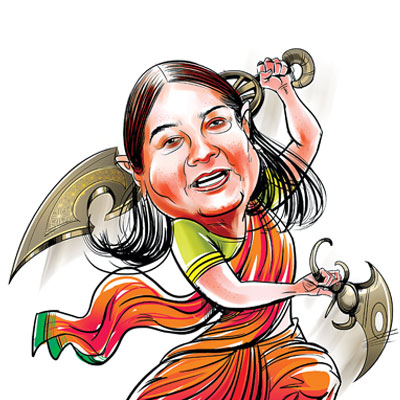 Ask anyone in Pilibhit why they have voted Maneka Gandhi to the Lok Sabha five times since 1989. No one has a clear answer. Maneka herself does not know why. When a reporter from Delhi asked her this question recently, she was rather stumped and only said: "I really don't know. You should ask the people."
The people here are once again asking the same question: Why vote for Maneka, what has she done for us in the last 25 years? But, perhaps for the first time, the people have a clear and definite answer: "She may have done nothing. But we have to vote for Modi." The new slogan in Pilibhit is "Maneka to majboori hai, Modi bahut zaroori hai." The anger with which the electoral battle simmers here is impotent.
The writing is on the wall, and the truth seems to have dawned on the Nehru-Gandhi family's "chhoti bahu", too. So, it's no wonder then that the famously snobbish Maneka harps on the Modi tune and sings paeans to the "Gujarat model" of development in her speeches.
"It's her way of deflecting the severe criticism for non-performance," says Manoj Sharma, a local journalist. "She doesn't talk about the real issues affecting the people's daily lives. Her appeal is limited to 'abki baar Modi sarkar'," he says.
Pilibhit's roads are perhaps the worst in UP, power supply is largely erratic, the large number of Sikh farmers in the region have been fighting for pending cane dues and better cane prices for ages, there are no factories or industries, no hospitals and no good schools. For almost everything, the locals have to go to neighbouring Bareilly. The negative list is endless, and Maneka obviously prefers to stay clear of her opponents' salvos on such issues.
In fact, insiders in the BJP camp here admit that the mother has stepped in to save son Varun from a definite defeat here. Maneka had left the seat for Varun in the last election. But locals say their hopes of a better performance from the young Gandhi were dashed as he holed himself up in Delhi, rarely visiting the constituency.
Varun has moved to Sultanpur for this election while Maneka holds fort here amidst rather adverse circumstances. She faces a tough challenge from BSP nominee and former minister Anees Ahmed alias "Phool Babu". Local journalists are unanimous the BSP would corner the sizeable Muslim vote here. Along with the BSP's votebank of Dalits and most backward castes (MBCs), Ahmed is sure to give Maneka a run for her money despite the "Modi wave", they say.
Adding to her troubles is local BJP MLA Ram Saran Verma, who is known to be helping the SP nominee Buddhsen Verma, both being Kurmi backwards, on the sly. Congress candidate Sanjay Kapoor, an MLA, has proved to be a late starter and is likely to be reduced to an also-ran. That is no consolation to Maneka for whom this contest promises to be a tight rope walk rather than a cakewalk.
2009 Lok Sabha election result
Feroze Varun Gandhi (BJP) -- 4,19,539
VM Singh (Congress) -- 1,38,038
Riyaz Ahmed (SP) -- 1,17,903
Ganga Charan (BSP) -- 1,12,576