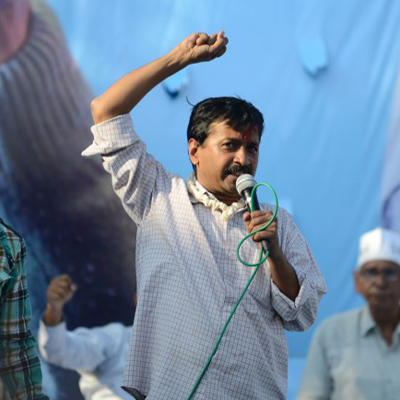 Aam Aadmi Party (AAP) leader Arvind Kejriwal came under fire from political parties and journalists' bodies after a video, showing him say the media is "sold" and he would send media persons to jail, was aired by a news channel.
While the AAP leader's comments drew flak from Congress, BJP, NCP, Editors Guild and Broadcast Editors Associations (BEA) also criticised Kejriwal.
Congress leader and Information and Broadcasting Minister Manish Tewari said the media played an important role in a democracy and those in public life should have the strength to take critcism.
"If anyone says such a thing that if he is voted to power, he would put the media persons in jail, it is very "painful and condemnable", Tewari said. "Those in public life should have the strength to take criticism," he added.
BJP leader Arun Jaitley said Kejriwal had made allegations without evidence to support them.
"Arvind Kejriwal started as a populist. He has evolved into a demagogue. He can make allegations against anyone and everyone without any supporting evidence. He has little concern for the truth. He believes in repeating the falsehood several times. He convinces himself that facts manufactured by him are true. As a populist in many areas, he is ideology- less," Jaitley said.
He said the AAP leader looked at the mood of the mob before presenting his case. "Such persons can be extremely dangerous for democratic institutions," he said.
The BJP leader said prospects of an electoral defeat should not frustrate leaders like Salman Khurshid and Arvind Kejriwal into believing that democratic institutions have been compromised.
NCP leader Tariq Anwar said that in a democracy the role of the media and its independence is very important and added that creating any pressure on it is not correct.