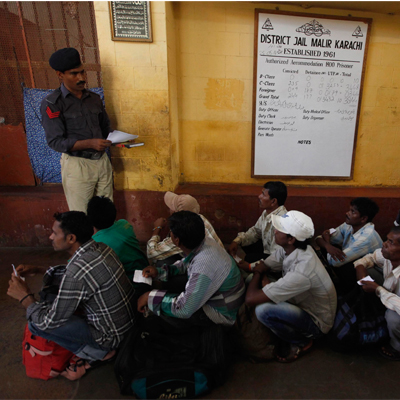 Pakistan handed over 150 Indian fishermen on Monday and another prisoner held for crossing the border to Indian authorities at the Wagah border in a goodwill gesture by Premier Nawaz Sharif, who is in India to attend the swearing in ceremony of Narendra Modi as Prime Minister.
59 prisoners were released from the district prison Malir in Karachi and 92 from the Nara prison in Hyderabad, officials said. Of the 151 people handed over to the Border Security Force (BSF) at the Wagah border, 150 were fishermen and one was a prisoner in Karachi jail who had inadvertently crossed into Pakistan from the Sindh border. They were brought to the Wagah Border from Karachi by buses.
"After going through their papers they have been handed over to the Indian authorities," said a Pakistan Rangers official.
Talking to reporters fisherman Dapu Teja said he learnt bead work in jail. "I get Rs 60 per piece I make and I know how to make bracelets, anklets, necklaces and key chains with beads," he said. Teja was on board a ship which allegedly crossed over into Pakistani territory seven months ago. He said there were seven people on the boat but only four were arrested by the Pakistan coastguards. "They let the three older fishermen go back as they will have been a burden here due to their age," he said.
Another fisherman named Nanji Soma said: "I am an illiterate man, good enough to catch fish only, but my son will not be one. He is 10 years old now and goes to school. In my absence, the fishermen community back home contributed for my poor family to keep sending him to school." He added, "Now I will go back and work again and also pay back my friends. I may get caught again as there are not clear boundaries marked in the sea to keep us from drifting into your country but it will not happen to my son," he said.
Kamal Shah of the Pakistan Fisherfolk Forum has appealed to the Indian government to release the Pakistani fishermen locked up in Indian jails. On Sunday, Sharif ordered the release of the 151 Indian prisoners and 57 boats, a day before his visit to India.