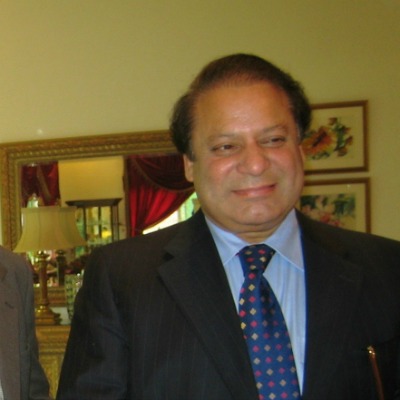 Pakistan Prime Minister Nawaz Sharif arrived in India on Monday with a "message of peace" to attend the oath taking ceremony of Prime Minister-designate Narendra Modi, becoming the first ever Pakistani leader to do so.
"Pakistan wants good relations with India and I am going to New Delhi with a 'message of peace'", Sharif said in his informal address to the media just before departure from Lahore airport. Sharif also said all issues can be solved through talks. He is accompanied among others by his wife Kulsoom Nawaz and his son Hussain Nawaz.
63-year-old Modi, who led the BJP to an astounding victory in the recently concluded Lok Sabha elections, extended invitations to all SAARC heads of state, including the Pakistan premier, last week. It is the first ever visit by a Pakistan leader to India to attend the oath taking ceremony of a prime minister-designate.
Sources said it is expected Sharif will also give a formal invitation to his counterpart for a visit. The News reported on Sunday night that Sharif met his younger brother Shahbaz Sharif along with others in Lahore and discussed the visit. "The premier said Pakistan wanted the resolution of all issues with India, including Kashmir, Sir Creek, water and trade, and it wanted to establish a relationship on the basis of equality for peace in the region," the paper said, citing unnamed sources. In the meeting, Sharif said the government's decision to release arrested Indian fishermen as a goodwill gesture and giving back the confiscated fishing boats for the first time in the history of the two sides was aimed at improving the ties.
No breakthrough is expected during the visit but it will provide the two leaders an opportunity to cultivate personal relations which go a long a way in reducing tensions.
Pakistan has avoided repeated reference to Kashmir before the visit which was in contrast to former military ruler Pervez Musharraf's Agra trip of 2001 when he announced that the disputed region will be the central focus of the summit.
In another major development, Pakistan has so far not dropped any hint that Sharif will meet Kashmiri leaders, which is also a departure from established tradition.
Musharraf's high tea party by Pakistan High Commission in 2001 where APHC leaders were invited had created a storm and almost rocked the entire trip. Analysts said the visit will help in easing tension. Former Ambassador Ali Sarwar Naqvi said the meeting between the two prime ministers is very important. Since the relations have been through many ups and downs, it improve the atmosphere for future talks, he said.